Last updated on February 19th, 2022 at 02:06 PM
Fabletics, the innovative active-lifestyle brand co-founded by Kate Hudson in 2013 announce the first partnership between Kate Hudson and her mother, renowned actress Goldie Hawn, to launch a global capsule collection in support of The Goldie Hawn Foundation's MindUP™.
Founded by Hawn in 2003, MindUP™ is an educational program that helps children develop the mental fitness necessary to thrive in school and in life. The program brings together the foundations of neuroscience, positive psychology, mindful awareness and social-emotional learning.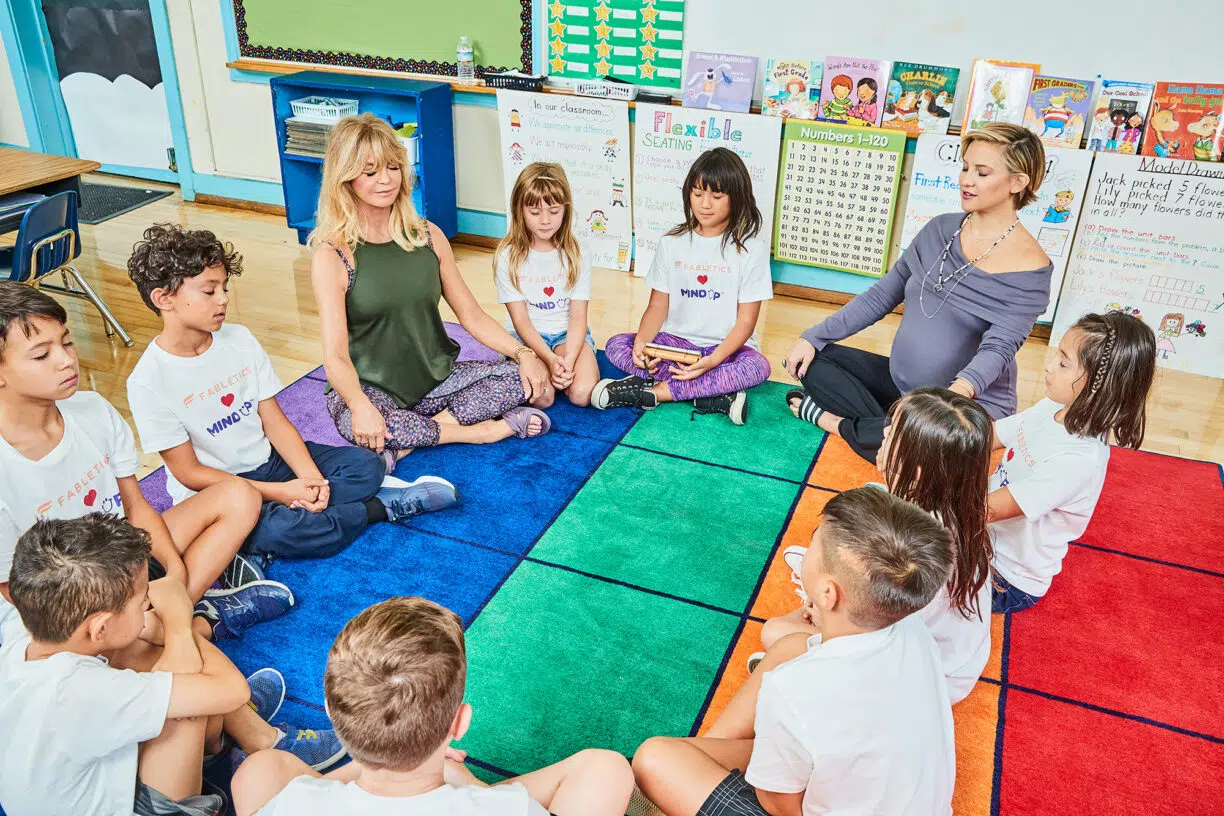 Today, the program is taught in schools across 12 different countries and has helped over 6 million children. The MindUP™ collection for Fabletics will launch September 26th, 2018 and includes select limited-edition outfits. 50% of net proceeds from the collection will be donated to MindUP™ and provide scholarships for schools and teachers to expand the MindUP curriculum to new communities, benefitting children around the globe.
"This is the first time my mom and I have worked together, and this partnership between Fabletics and MindUP™ is an exciting one to start with because the cause is near and dear to both of our hearts," says Hudson. "My mom is incredibly passionate about the welfare of children, which is what led her to start MindUP™.
The MindUP™curriculum helps children understand and manage their emotions through the workings of their brain, which will ultimately raise a generation of kids who have the power to create their own happiness and thrive in today's world. My mom is also the embodiment of the Fabletics ethos.
She meditates, trampolines every morning, runs, lifts weights and even rides a mountain bike—it's literally hard to keep up with her!
Through her example, she's taught me that the body and mind are always connected in a constant flow. One can say that I've had a really good role model to build the Fabletics brand!"
The collection is inspired by Goldie Hawn's personal style with a nod to the MindUP™ mission of mindful meditation. Signature Goldie silhouettes such as flared pants and an off-the-shoulder top are some of her capsule favorites.
The collection ranges from cozy, designed-for-comfort studio knits to performance-based pieces made of SculpKnit, Fabletics' newest compressive seamless fabric. In the spirit of MindUP™, the collection's color palette is soft and calming featuring dahlia purple, olive, shadow and black, with a custom-designed lotus flower mandala print, a symbol often used in meditation.
Hawn noted that Hudson is such a huge champion of MindUP™ that she is not only on the board, but also thought of the idea to collaborate. Hawn said, "I'm extraordinarily proud of Kate and all that she has brought to Fabletics, including her dedication to creating such an amazing community for women. She wanted to be able to put MindUP™out there and give more children access to learning about mindful behavior.
This partnership has become a passion project with my daughter, supporting one of my most monumental causes.
Together we see so many synergies between MindUP™, and Fabletics – health, wellness, activity, movement and balance, but also giving back. These are key pillars for me.
Movement is vitally important – when our bodies are in motion our minds are more at rest, we become more balanced all around."