Last updated on June 16th, 2021 at 10:20 PM
A group of Cumbrian-based heritage attractions is shining light on the uplifting religious and spiritual experiences it can offer within Cumbria's two World Heritage Sites, by including a 'Spiritual Line' on what it is calling its 'Heritage Cumberground' map.
Cumbria's Living Heritage (www.cumbriaslivingheritage.co.uk) includes five uplifting stop-offs on its 'Spiritual Line' – Whinlatter and Grizedale forests, Swarthmoor Hall near Ulverston, Lanercost Priory near Carlisle and Furness Abbey, in the south-west of the county.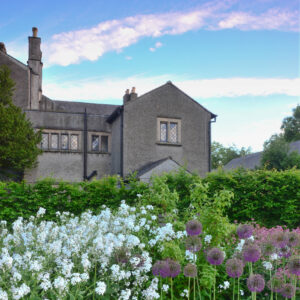 The Spiritual Line is one of 10 themed lines on its imaginary version of London's underground designed to make it easier for visitors to identify what appeals to their interests and their personal requirements from an experience.
In selecting the five stop-offs, on its Spiritual Line, Cumbria's Living Heritage is illuminating the 'faith tourism' possibilities within its 32-member network and defining faith tourism as both visits to religious sites and the spiritualism that many faith travellers seek when planning their itineraries.
The latter encompasses meaning, mindfulness, relaxation and meditation, with a visit primarily providing a path towards achieving greater contentment and inner peace. Cumbria's Living Heritage is confident that it can offer all of these much sought-after states of being – and much more.
More information on the Spiritual Line stop-offs follow, whilst the Heritage Cumberground map can be downloaded at www.cumbriaslivingheritage.co.uk
Exploring the Spiritual Line
The forests of Whinlatter and Grizedale offer calming peace and tranquillity, as well as the physical and mental benefits scientifically proven to be bestowed on those spending time under a forest canopy. These include. immunity boosting, stress-busting and mood enhancement.
Whether it is at Whinlatter – England's only mountain forest – or Grizedale, visitors can breathe in the invigorating forest scents and all the positive energy emitted by trees. But there are also spectacular fell and lake views to enjoy, at various spirit-lifting viewpoints. Both stunning Bassenthwaite and calming Derwentwater are visible from Whinlatter, enabling forest venturers to discover far more than just trees.
At Grizedale, they can also stumble upon spiritually uplifting sculptures by hugely talented contemporary artists, spending time pondering the meaning of some, appreciating the lines of others, such as the inspiring 'Lady of the Water', or being enriched by a view through a breathtaking sculpture like '17 Degrees South', which both wows and stimulates the senses.
Whilst revitalisation is possible 365 days a year, Grizedale is now offering other restorative experiences at certain times of year, including sky safaris for stargazers, Qigong sessions and forest bathing – all not-to-be-missed by those seeking a spiritual uplift. Both forests are also perfect places to which to head for quiet contemplation and self-reflection, offering much to restore body and mind.
The same is also true of Grade II-listed Swarthmoor Hall – a house associated with spiritual renewal for more than three centuries. Despite this being the birthplace of the Quaker movement and the former home of Margaret Fell (later Fox) and the Quaker leader, George Fox, many non-Quakers head here each year to discover their own identities, tap into their creativity and develop a deeper sense of worth. There is something about the calming atmosphere at the house that appeals to all, whilst the Quaker way, focusing on equality and peace, is assuming more relevance than ever in today's fractured society.
At Swarthmoor Hall, visitors can arrive for a day trip that involves an audio tour of the house, explaining how it would have been in the time of George Fox, when he stumbled across it in 1652 and made it his headquarters. Visitors can admire Judge Fell's study, a collection of period furniture and Margaret Fell's heavily carved bed, carrying the quilt that is being recreate, as a living quilt outside, through careful and considered replanting.
With this happening in the flower bed close to the charming and tranquil café, neither whiling away the hours there, nor enjoying moments of reflection in the garden, are wastes of time, but rather time well-spent recharging the soul.
Whilst visitors can compose their thoughts during just a short period of time at Swarthmoor Hall, those seeking more meaning in life can visit for a retreat, or to attend a religious or creative course. Another mindfulness option is a Pilgrimage, on offer twice a year (in May and August), which involves visits to other Quaker sites and Meeting Houses within Cumbria and nearby counties.
It is also possible to design your own Pilgrimage itinerary, perhaps building in some of the plethora of walks on offer locally, which are great rekindlers of spirit.
Swarthmoor Hall has 14 guest rooms for stays on a self-catering or B&B basis and also has a Shepherd's Hut for those wishing to enjoy true solitude or added peace, with this being situated beside a tranquil wildflower meadow, with views over nearby hills and fields.
Unwinding by the wood-burner could possibly accelerate the benefits of downtime, away from the distractions of work and all the stresses of modern life.
At Lanercost, the semi-ruined 13th century Augustinian monastery can speak to those seeking solace and peace, despite having had a turbulent past, due to its location on the Anglo-Scottish border close to Hadrian's Wall. The monastery's appeal to King Edward I did nothing to ease tensions, resulting in unwelcome visits by Robert the Bruce and his brothers, as factions on both sides of the border warred almost continuously.
With its unusual (for Cumbria) dedication to Saint Mary Magdalene, to whom King Edward I expressed a particular devotion, leading him to gift the monastery the statue still seen to this day, there are century-long religious facets to explore, with prestigious royal links besides.
In fact, it was the King's emotional attachment to Lanercost that probably saved it from ruin, as it led him to grant monies to the priory, to help it recover from the huge costs of having to host both King and court during a six-month period between 1306 and 1307.
Today, beautifully preserved cloisters are the perfect place in which to pray, whilst spirits can be raised through an appreciation of the dramatic tier of arches and the fine monuments to be found within the priory buildings.
Despite the Lanercost Priory Church being dissolved by Henry VIII, later restoration work has preserved it for visitors today, who cannot help but note the Lanercost Cross – an unusual medieval stone carrying an inscription from 1214 which notes various European rulers and religious leaders of the time.
The tomb of Thomas Addison, scientist and physician, can be found at the priory, along with a memorial to Reverend Henry Whitehead, a pioneer in the field of cholera. A collection of Roman altars can also be seen in the Cellerium, which formerly stored the priory's food.
With three stained-glass windows designed by Edward Burne-Jones and a restored embroidered wall-hanging by William Morris, of Arts and Crafts movement fame, Lanercost is a honey-pot for both the traditional faith tourist and the spiritual tourist alike.
The same can be said for Furness Abbey, where the imagination can run riot when it comes to imagining this abbey at the time of its founding by Stephen, later to be King Stephen of England. Nowadays, visitors can see much of the east end and west tower of the church, an ornately-decorated chapter house and the abbey's cloisters.
Our knowledge of the abbey's past has been sharpened by the excavation of a crozier complete with crook, and an impressive gemstone ring, once worn by a monk, highlighting the wealth that this abbey once enjoyed.
Its collection of rare effigies, often viewed as being remarkable, add to the drama of an abbey that was once the second richest Cistercian abbey in England, second only to Fountains Abbey. Dating back to 1123, and made entirely from local sandstone, the gothic-style monastery is alluring in the extreme.
J M W Turner was moved to make etchings of it, whilst Wordsworth referenced it in his epic poem, The Prelude, and a young Teddy Roosevelt played in its ruins in 1869.
Furness Abbey is also rich in ghost-lore – the White Lady, the headless monk on horseback, the monk on the staircase, and the squire's daughter, all being part of local myth and legend. Tales of an underground tunnel running to Piel Castle and Dalton Castle also abound, giving the 900-year-old site compelling heritage and a strong religious narrative that can leave faith tourists spellbound.
Head to Cumbria to discover these religious and spiritual havens for yourself and you should find whatever it is you wish to derive from your visit. With fresh mountain air all around, as well as splendid scenery and amazing views, there is something to inspire around every corner.
To explore other thematics within Cumbrian heritage besides the Spiritual Line, just download the Heritage Cumberground map at www.cumbriaslivingheritage.co.uk It could help change your view of the world.