Last updated on February 14th, 2023 at 11:43 AM
BUILD your own salad bar, Choppaluna, is offering Londoners lunch for just £1 for a whole week to celebrate its latest London opening and satisfy all healthy eating and money-saving cravings alike.
Between Monday 13th and Friday 17th February, the all-new salad bar will be offering a different delicious and guilt-free signature bowl each day for just £1. It doesn't end there, one lucky customer each day will also win free lunch for the entire year.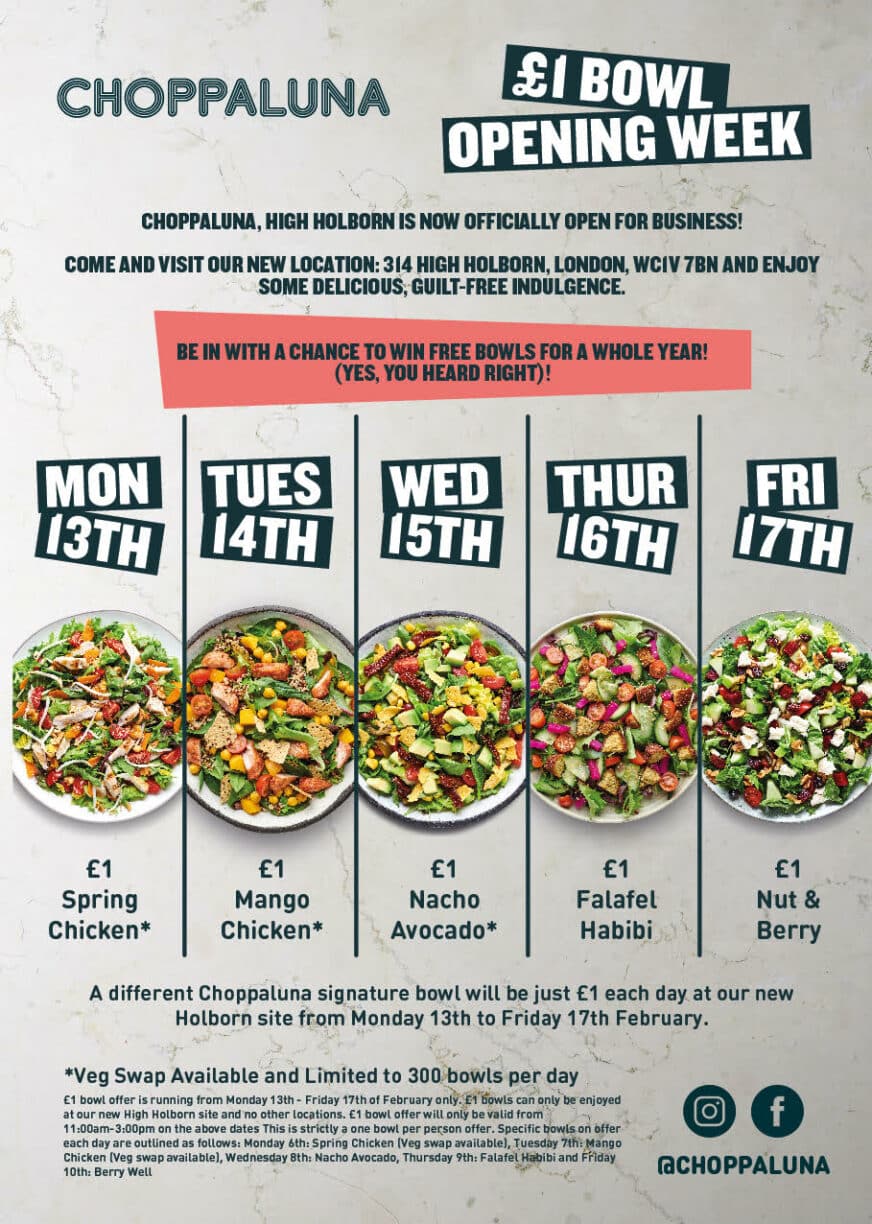 After success in Germany and their first London site in Bloomsbury (*ranked #6 out of more than 1,800 restaurants in London for quick bites), the fast, fresh, to-go salad bar has now opened at 314 High Holborn, London and is putting on this opening "£1 Bowl Week" offer to celebrate.
The signature bowl line-up, which usually ranges from £6.99 – £8.99 will be available for just £1 between 11:00 am to 3:00 pm at the High Holborn Choppaluna (limited to the first three hundred people)
Monday 13th: Spring Chicken (vegan swap available)
Tuesday 14th: Mango Chicken (vegan swap available)
Wednesday 15th: Nacho Avocado
Thursday 16th: Falafel Habibi
Friday 17th: Nut & Berry
To further celebrate the new opening, everyone who attends the opening week will also have the chance to play the "Spin to Win Wheel". The wheel will offer special discounts, with one lucky customer each day also in with a chance to win the "free bowls for a year" prize.
Co-Founder at Choppaluna, Nikras Agha, said: "We are excited to be opening our new restaurant in London Holborn, bringing our delicious, guilt-free indulgence to another location.
Choppaluna will truly revolutionise the clean eating space in the city, bringing people indulgent, healthy options that fit with a fast-paced on-the-go lifestyle."
"We are looking forward to progressing with our expansion plans across the UK. It's a huge achievement for our team, and it shows a real appetite for our delicious, healthy food.
The opportunity is truly resonating with our franchise network within the Hero Brands group and we look forward to exploring further opportunities to expand in the future," he added.
Healthy, to-go eating options are becoming more popular than ever in the city but Choppaluna is here to show that salads don't have to be bland and boring.
Its deliciously, guilt-free-indulgence menu offers a huge choice of meat, fish, vegetarian and vegan options and all your favourite superfoods, there is something for everyone.
The vibrant experience allows customers to watch the brand's talented team chop everything finely in front of their eyes with over 60 fresh toppings, perfect for customised combinations.
It's not only salads that get chopped and served at Choppaluna, guests can also choose to go for a 'Big Roll' wrap or a mouth-watering 'Luna Melt' (a modern take on Quesadillas with a cheese base and fresh toppings, grilled to perfection). 
*Ranking of #6 via Tripadvisor 
Terms & Conditions:
£1 Bowl offer
£1 bowl offer is running from Monday 13th – Friday 17th of February only
£1 bowls can only be enjoyed at our new High Holborn site and no other locations
£1 bowl offer will only be valid from 11:00 am-3:00 pm on the above dates for the first 300 bowls only
This is strictly a one-bowl-per-person offer
Specific bowls on offer each day are outlined as follows: Monday 6th: Spring Chicken (vegan swap available), Tuesday 7th: Mango Chicken (vegan swap available), Wednesday 8th: Nacho Avocado, Thursday 9th: Falafel Habibi and Friday 10th: Nut & Berry
Offer valid for Bowl only, not for Big-Rolls/Luna Melts.
"Free Bowls for a year" offer
One lucky customer each day over the five days will be in with a chance to win the "free bowls for a year" prize
Only one person can win each day (Monday 13th – Friday 17th February) and once it has been won each day the offer is no longer available for the rest of said day
Prize entitles the winner to 1 Signature Bowl per week at any Choppaluna stores (Take-Away & Dine-In only) until December 31st 2023
To check out their deliciously guilt-free, indulgence menu, visit: