Zone3 is introducing its complete compression and fitness collection, which provides everyday athletes with quality items that offer the very best in comfort and performance.
The new collection includes medical-grade compression wear and activewear designed for training, racing and recovery.
The range has been under research and development for the last four years and is made with comfort and performance in mind.
Each garment has been carefully constructed using innovative fabrics and technical features to ensure that it fits and performs to the highest standards.
COMPRESSION
Building on its leading position in the triathlon industry for delivering high-performance clothing and accessories, Zone3 is taking this knowledge and applying it to medical-grade compression – premium in fit and feel – that is suitable for all sports and fitness enthusiasts.
The Zone3 medical-grade compression range is designed for performance; offering the user the optimum level of graduated compression.
To ensure each product meets the very highest standard for athletes of all abilities, Progressive Sports Technologies (based at Loughborough University) helped in the development process.
PST conducted lab tests to determine optimal design and performance, guaranteeing that the compression tights and shorts offer the correct level of graduated compression necessary to improve performance and recovery times.
Athletes can rest assured that the science behind these items will help aid their ability to perform.
Four key compression items:
Compressions Tights and Compression Shorts
The Zone3 compression tights and shorts have undergone regular testing and feedback sessions, resulting in extremely comfortable, effective medical-grade items.
Carefully designed to offer coverage and confidence, they are the items you won't want to be without.
Men's tights here and women's tights here.
Men's shorts here and women's shorts here.
Compression 2-in1-Shorts
The 5-inch and 3-inch 2-in-1 shorts are a go-to item for any athlete. As well as reflective detailing and heat transfers for added safety and visibility, the soft compression undershorts offer extra support, comfort, coverage and freedom of movement throughout your workout.
Compression Calf Sleeves
The Zone3 calf sleeves help to increase endurance, speed and recovery time. High moisture-wicking fabric provides temperature control and sweat management, and the built-in Muscle Support System reduces muscular vibration and improves shock absorption.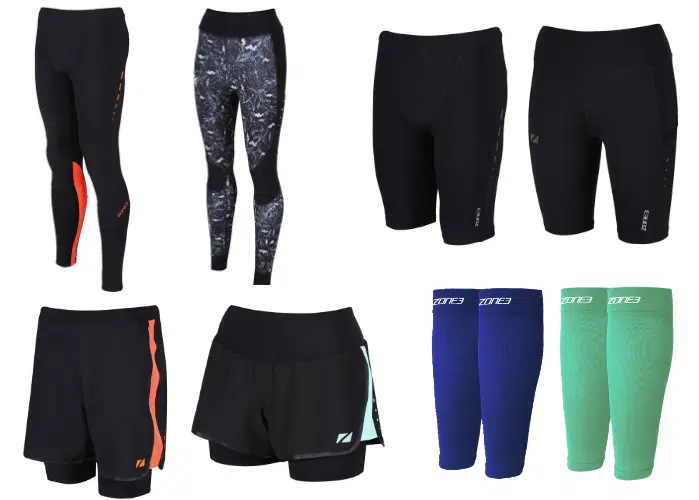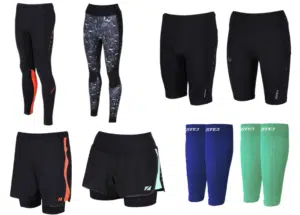 Find them here: men's and women's
FITNESS
While compression is at the heart of the new Zone3 collection, there is also a new range of t-shirts, underwear, activewear, swimwear and goggles.
In keeping with the brand ethos, the range is designed to not only look and feel superior – offering comfort and performance – but is also available at compelling price points where possible.
Zone3 is an established brand that's known for producing excellent quality items, and the fitness range has been designed to perform to the same high standards as its award-winning triathlon range.
Athletes can now train, race and recover knowing the Zone3 offering has them covered every step of the way.
Find the men's fitness range here and the women's fitness range here.