Last updated on February 20th, 2022 at 03:04 PM
ZeroWater is the only water filter brand that delivers the equivalent to purified bottled water into your home.
Developed a pour-through system, with an aim to deliver the best filtration possible with their premium five-stage ion exchange technology, this filter removes virtually all total dissolved solids (TDS), a claim which no other filter can say.
ZeroWater is the only gravity-fed filtration system to match the TDS levels found in purified bottle water.
This breakthrough filtration system from ZeroWater is certified by NSF International for the reduction of Lead and other heavy metals such as Chromium 3 & 6 and Mercury.
The Good Housekeeping Research Institute have also revealed that ZeroWater removes more total contaminants from water than a regular Brita filter, making it a must-have for all homes in the UK.
ZeroWater's 12-cup Ready-Pour™ pitcher is the first in its class that has a sealed lid and reservoir, making it possible to pour water that has already been filtered without spilling water that's still filtering.
This means the reservoir can now be kept full, adding a full two cups' capacity to the existing 10-cup design. It also features a one-hand, pull and pour button spout for easy bottle filling.
The 12-cup Ready-Pour™ uses the patented ZeroWater filtration system, which combines FIVE sophisticated technologies that work together to remove virtually all dissolved solids from your water.
The result is great-tasting water, straight from the tap, and the only pour-through filter pitcher on the market that's certified by the NSF to reduce lead.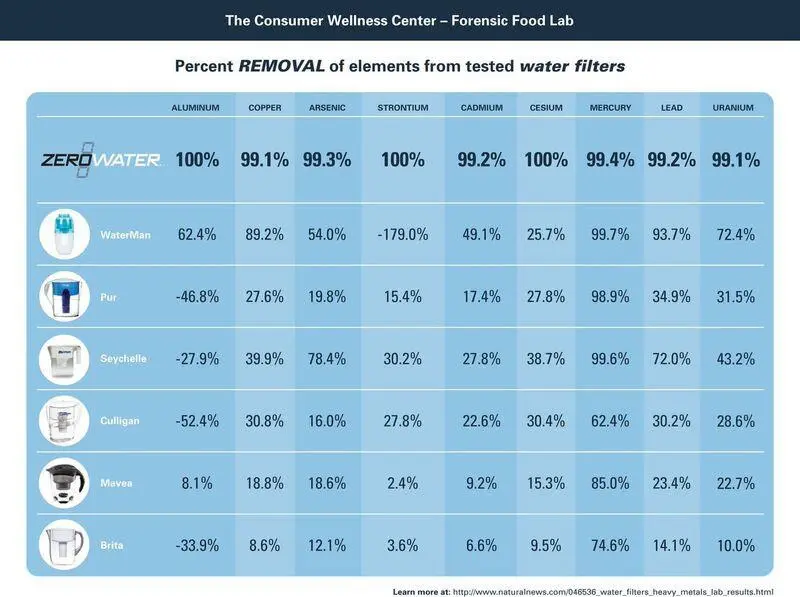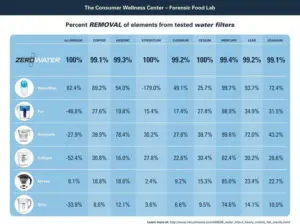 ZeroWater's first layer of filtration, activated carbon and oxidation reduction alloy, removes the chlorine taste you are accustomed to with tap water.
The Ion Exchange stage removes virtually all dissolved solids that may be left over from public water systems or even leached into your water from piping, such as aluminium, lead, zinc, nitrates, and more.
Three additional stages are included to remove other impurities and ensure your water receives the appropriate amount of treatment time to deliver a "000" reading on the included laboratory-grade Total Dissolved Solids meter.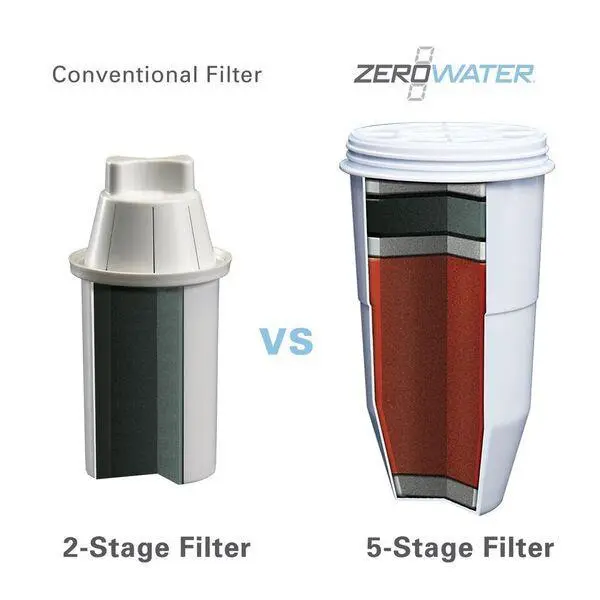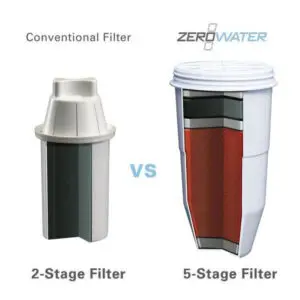 About ZeroWater
NSF Certified to REDUCE LEAD
Removes 99.6% of all dissolved solids
Purest tasting drinking water
12 cup capacity = 10 cup pitcher + 2 cups in reserve
Immediate pouring ability
One-hand "push to dispense" spout to fill any bottle or cup
Convenient space-saving design
Certified* to reduce Lead, Chromium, & Mercury
Premium 5-Stage Dual-Ion Exchange filtration system
Ion-Exchange system that removes virtually all dissolved solids in your water
The FDA requires the TDS level in PURIFIED bottled water to reach 000-010ppm. ZeroWater is the only filter in its class to achieve this level.
The ZeroWater 12 cup ready pour costs £39.99 from ZeroWater.co.uk