By David Saunders, Health Editor | UPDATED: 08:28, 05 June 2020
Wimbledon 2019 begins on 1 July, with the BBC bringing unmissable coverage across TV, radio and digital platforms once again.
Coverage of the prestigious tournament will come from a top class talent line-up and extensive multi-platform offerings to provide audiences with analysis from the best in the sport, alongside behind-the-scenes access from the court.
BBC Sport's digital service at Wimbledon will be larger than ever this year. The BBC's ultra-high definition trials are being expanded this year, so that viewers with compatible TVs will be able to watch every centre court match in UHD and high dynamic range on BBC iPlayer and by pressing the red button.
And for the first time ever, every match from all 18 courts will be available live and on-demand on BBC iPlayer and on the BBC Sport website and app. All broadcast programmes will be available for 30 days.
Sue Barker (pictured) leads duties across BBC One and BBC Two throughout The Championships.
Sue will be joined by a host of former Wimbledon champions including John McEnroe, Martina Navratilova, Boris Becker, Billie Jean King and Pat Cash, who head up a top-class line-up that also includes Tracy Austin, Kim Clijsters and Tim Henman.
Today At Wimbledon sees Clare Balding in the presenter seat for the highlights show, which comes live from the open air studio by Henman Hill daily on BBC Two. Clare will guide viewers through the best of the day's action and discuss the major talking points, as the tournament unfolds, with a host of special guests.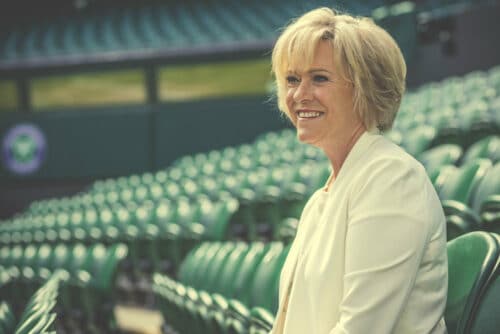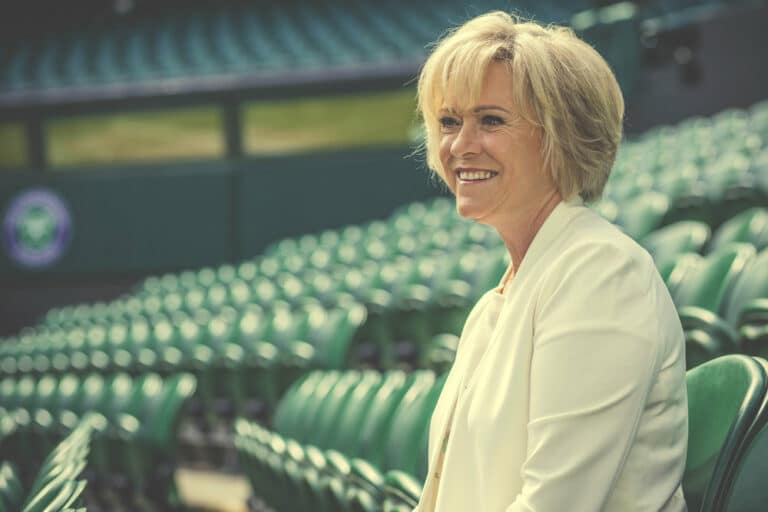 Commentary comes from Vijay Amritraj, Chris Bradnam, James Burridge, Andrew Castle, Matt Chilton, Andrew Cotter, Annabel Croft, Nick Lester, Todd Woodbridge, Jo Durie, Peter Fleming, Paul Hand, John Inverdale, John Lloyd, Dan Lobb, Ronald McIntosh, David Mercer, Nick Mullins, Peter Odgers, Mark Petchey, Louise Pleming, Simon Reed, Chanda Rubin, Gigi Salmon, Sam Smith, Liz Smylie and Mel South. Lee McKenzie, Rishi Persad, Reshmin Chowdhury, Patrick Gearey and Simon Mundiebring the reports and features.
Gigi Salmon and Tony Livesey host the extensive coverage on Radio 5 Live, with expert analysis from former Wimbledon champions Marion Bartoli and Pat Cash. They will be joined by Kim Clijsters, Laura Robson, Leon Smith, Chanda Rubin, Annabel Croft, Miles Maclagan, Mark Woodforde and Jeff Tarango.
John McEnroe returns to present his 5 Live show each Thursday of the tournament, speaking to big names from tennis and beyond, with listeners also getting the chance to have their say. 5 Live's commentary team is led by tennis correspondent Russell Fuller, along with Gigi Salmon, David Law, Naomi Cavaday, Jonathan Overend, Iain Carter, and Alastair Eykyn.
The BBC Sport website, mobile app and TV app, will offer all the latest news, analysis, draws, order of play, live scores and results plus highlights, full match replays and video clips throughout The Championships.
Sports News will also be reporting daily from Wimbledon. The comprehensive coverage will start from 6am on BBC Breakfast, with presenters Sally Nugent and Mike Bushell presenting the sports bulletins from the All England Club, with weather presenter Carol Kirkwood keeping the nation posted on the all-important weather during the Championships.
Correspondents David Ornstein, Natalie Pirks and Andy Swiss will be reporting for Network TV and Radio, including for the One, Six and Ten O'Clock News, as well as Radio 4's PM and 6pm programmes.
Sports News presenter John Watson will be fronting the coverage for the BBC News Channel's sports output including the daily half hour 6.30pm Sportsday programme. Holly Hamilton will be anchoring the coverage for BBC World TV Sport.
The World Service Radio Sport team will report from the All England Club, with presenter Lee James anchoring the daily coverage alongside Chris Dennis each day on Sport Today and at weekends Sportsworld will feature live commentary and player interviews.
Barbara Slater, Director of BBC Sport, says: "Wimbledon is the centrepiece event of the sporting calendar and it will be brilliant to welcome back our unrivalled team of experts this year alongside some new faces. The BBC's offering this year will bring our audiences exceptional coverage and bring them closer to the court action than ever before."
John McEnroe: Still Rocking At 60 sees Sue Barker present a one-off special for BBC One to celebrate the 60th birthday of the man who took the world of tennis by storm. Sue travels to New York to meet his childhood friends and family, as well greatest rival and close friend Bjorn Borg, to find out more about the man who at 60, is still competing and is the oldest man on tour.