By David Saunders, Health Editor | UPDATED: 18:42, 31 October 2019
MONSIEUR Le Duck, London's only duck restaurant, has announced their sumptuous Christmas menu featuring the UK's only Duck Wellington.
Launching on Sunday, December 1, the Gascony inspired restaurant will be serving an array of delicious Christmas roast dinners, including their signature duck Wellington and whole crown of roast duck.
No roast would be considered acceptable without a cracking roast potato and wow does Monsieur Le Duck deliver with their triple cooked duck fat roasties.
The menu will also see a rabbit and duck terrine, pan fried scallops with crispy duck skin on a chestnut purée and an array of duck fat finished trimmings, including brussels sprouts with lardons, red cabbage, quince, Yorkshire puddings and of course a delicious gravy.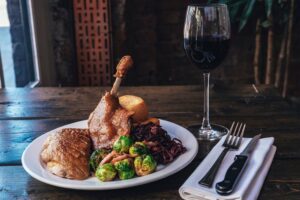 The fully dedicated duck restaurant, designed to bring the food and wine of South-West France to the heart of London, has been working on the Christmas menu for three months. Owner Richard Humphreys and his team of chefs have hosted intimate focus groups in the restaurant to ensure perfection.
Richard said: "The duck wellington is something really special. I believe we're the only restaurant in the UK serving this dish.
"The rest of our Christmas menu is equally as good. We've hosted some small trial groups and so far everyone has loved it. We're very excited to see how people react to everything on the menu. We've all been working very hard to ensure every aspect is perfect."
Monsieur Le Duck has a magnificent cocktail list with in-house infused spirits such as bourbon infused with rosemary and has craft beers from By The Horns (Chateau Rouge is a farmhouse Saison style beer that has been aged in Burgundy wine barrels) and Beavertown. The wines mainly focus in the £30-40 range and cover all major wine growing areas in France and only France. They offer house wine at £15 per 500ml carafe.
Owner Richard Humphreys, 35, who was Inspired by the douceur de vivre of Gascony (the sweetness of living) added: "Since opening we've all been excited for winter. Our hearty dishes are certainly warming and we're excited to see how people react to things like the full roast duck and duck wellington. People love to cook Christmas potatoes and vegetables in duck fat, we obviously have a surplus and we're going to be using it to cook all the trimmings."
The popular Monsieur Le Duck restaurant opened in June in the heart of Clerkenwell and is looking to expand. It is set over two floors and has dishes including duck burger, duck steak baguette, duck Wellington, confit duck and the delicious duck magret breast.
It followed a six month stint as a pop up restaurant near Liverpool Street and following the huge success it moved to a permanent home.
Richard, a frequent traveller to Gascony, has designed Monsieur Le Duck as an authentic portal to a land of relaxed eating and drinking – a concept synonymous with South-West France. With the success of Clerkenwell, he has been inspired to expand the brand across the capital.
Monsieur Le Duck has proved popular by emulating long lunches in village squares, laughter amongst friends, carafes of local wine, Armagnac, and, most importantly, duck.
Hugely passionate about the simple, rich and delicious food of this part of France, Richard gave up his previous career in the City to follow his dream of introducing his distinct take on this cuisine to London. The result is a fun, light hearted and delicious homage to duck, lots of duck, so much duck.
The menu includes confit Moulard duck leg, pan fried or chargrilled Moulard duck breast and an awe inspiring 100% Barbary duck leg minced burger accompanied with homemade prune mayo and baby gem lettuce.
No French meal is complete without wine and Monsieur Le Duck will be offering carefully selected wines, focusing on South-West France; available by the glass, carafe or bottle. The wines will be complemented by signature Armagnac based aperitifs and French beers.
MENU DE NOËL
MAIN COURSE £20.00 2 COURSES £27.50 3 COURSES £35.00
~ STARTERS / PETITES PIÈCES ~
RABBIT AND DUCK TERRINE w/QUINCE AND BRIOCHE
JERUSALEM ARTICHOKE SOUP w/FRESH TRUFFLE
PAN FRIED SCALLOPS w/CRISPY DUCK SKIN ON CHESTNUT PURÉE (+6)
~ MAINS / PLATS PRINCIPAUX ~
FOR 1
CONFIT DUCK LEG
MAGRET DUCK BREAST
PUMPKIN, AUBERGINE, COURGETTE & COMTÉ STACK
FOR 2
CROWN OF BARBARY DUCK
DUCK WELLINGTON
WHOLE MAGRET DUCK BREAST, PAN ROASTED
FOR 4
CROWN OF BARBARY DUCK w/TWO CONFIT LEGS
SERVED WITH TRIMMINGS FINISHED IN DUCK FAT:
TRIPLE COOKED ROAST POTATOES, BRUSSEL SPROUTS w/LARDONS, RED CABBAGE, QUINCE & YORKSHIRE PUDDING. (vg option available)
~ DESSERTS ~
CANALÉ w/ARMAGNAC CRÈME ANGLAISE CRÈME BRÛLÉE
TARTE AUX POMMES
CHEESE BOARD (+£2)