By David Saunders, Health Editor | UPDATED: 08:28, 08 July 2020
With the 91st Oscars almost upon us (airing 5:30 p.m. ET/3:30 p.m. PT on Sunday, February 24), we wanted to find out what the Hollywood A-listers would be eating on the night of the ceremony.
The full culinary lineup for Governors Ball (the official post-Oscars celebration) is again designed by Wolfgang Puck and Eric Klein, vice president of culinary at Wolfgang Puck Catering, has finally been revealed.
Wolgang and his company must be getting something right as It's the 25th consecutive year the company is catering for the event, and a release notes the culinary offerings pair "glamour with innovation."
Signature guest favourites like Smoked Salmon Oscars, Potato and Caviar 2.0, and Winter Truffle Baked Cavatappi and Cheese will be served alongside new items including Heirloom Carrot "Tartare," Vegan Torchio Pasta with Arugula, Tomato and Caper Berries, and Nashville Hot Fried Quail with Red Velvet Waffle.
And on the sweeter side of things, pastry team Kamel Guechida, Garry Larduinat and Jason Lemmonier are planning an assortment of not one but three dozen "show-stopping desserts," from the popular 24K Gold Dusted Chocolate Oscars to Golden Piper Heidsieck Champagne and Strawberry Push-Up Pops, plus action stations like Affogato with Housemade Ice Cream and Stumptown Nitro Cold Brew.
See below for the full menu.
Amuse Bouche
Crostini of Compressed Watermelon with Citrus Feta Cheese

Crab Deviled Eggs

Avocado Tostadas with Crunch Cabbage and Chipotle Glaze (V)

Crostini with New York Steak, Classic Chimichurri

Spicy Ranch Popcorn
Tray-Passed Hors d'Oeuvres
Wild Mushroom Potsticker, Black Truffle Ponzu (V)

Miyazaki Wagyu Beef Tartare on Tapioca Crisp, Togarashi

Mini Taro Root Taco with Miso Glazed Eggplant and Smoked Soy Mushrooms (V)

Heirloom Carrot "Tartare", Pickled Mustard Seed, Horseradish, Sunchoke Bark (V)

Smoked Salmon Oscars Matzo

Miniature Miyazaki Wagyu Burger, Sharp Cheddar, Remoulade

Wolfgang Puck Signature Pizzas

Spicy Tuna Tartare In Sesame Miso Cones

Alaskan King Crab, Crispy Rice Cake, Avocado, Aji Amario-Yuzu Ponzu

Opal Apple "Summer Roll", Cucumber, Shiso, Pomegranate Pearl (V, GF)
Raw Bar
SERVED ON HAND CARVED ICE BAR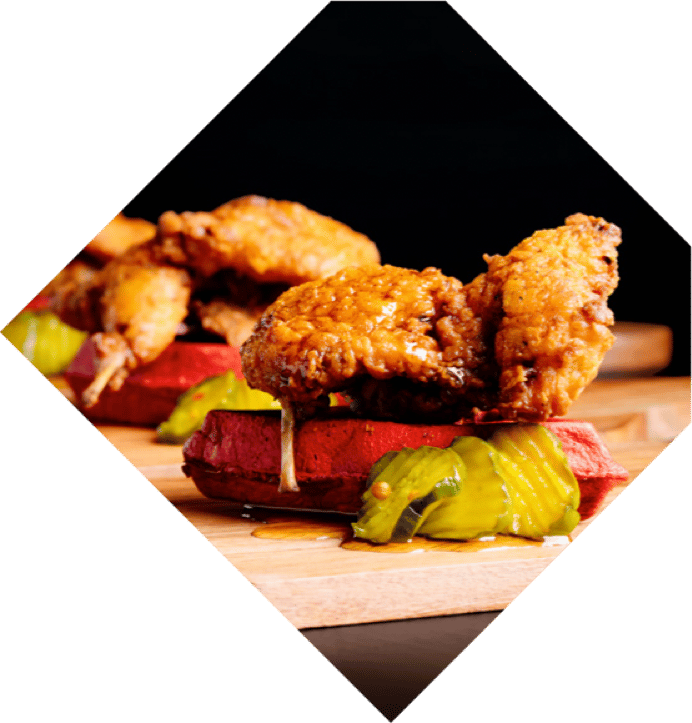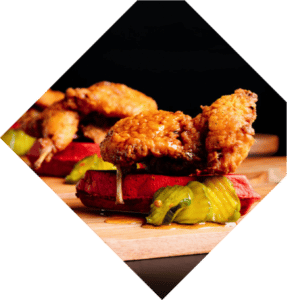 Spicy Tuna Rolls

California Rolls

Vegetable Rolls

Made To Order Nigiri

Scallop Ceviche, Black Garlic, Satsuma Tangerine Miso, Micro Herbs

Sea Urchin with Eggless Custard, Dashi, Unagi Glaze, Finger Lime

Albacore Tataki, Sweet Onions, Ginger, Momiji Chili, Ponzu

Oysters

Snow Crab Claws

King Crab Legs

Lobster

Shrimp
Passed Small Plates
SERVED COLD
Caramelized Cauliflower, Golden Raisin, Lime, Labneh, Pinenut, Shiso-Za'atar

Frozen Golden Beets, Almond Custard, Meyer Lemon, Ice Lettuce (V)

Snap Peas, Asian Pear, Pomelo Salad, Cacik Cheese, Mint, Walnut

Compressed Persimmon, Cinco Jotas Jamón Ibérico, Burrata, Wild Arugula
SERVED HOT
Sunchoke and Fennel Soup, Chips, Truffle Gremolata

Potato and Caviar 2.0

Black Truffle Chicken Pot Pie

Winter Truffle Baked Cavatappi and Cheese

Pea Agnolotti, Black Truffle, Peas Shoot, Parmesan Reggiano Brittle

Miyazaki Wagyu Beef Ny, Carrot Vichy, Spigarello, Yuzu Kotcho Ponzu

Loup De Mer, Calçot Onions, Artichokes, Fennel, Romesco Salsa, Espelette

Nashville Hot Fried Quail, House Made Pickles, Red Velvet Waffle

Torchio Pasta, Arugula, Tomato, Caper Berries, Aleppo Pepper, Black Olive Oil, Basil Flower (V)

Austrian Ricotta Dumpling, Watercress-Pea Pesto, Lemon Brown Butter
V – VEGAN GF – GLUTEN FREE
Individual & Plated Sweets
24 Karat Dusted Valrhona Illanka Chocolate Oscars

Ombre Chocolate Dipped Strawberries

Pillow Cake with Coconut Mango and Passion Fruit

Coconut – Chocolate Bar (V)

Yuzu Religieuse

Passion Fruit Cookie with Chocolate Chunks

Chocolate Chip Cookies.

Triple Chocolate Chip Cookies

Milk Chocolate and Caramelized Pecan Cookies

Strawberry Cookies

Hazelnut and Almond Brownies

Espresso Macaron

Matcha Cherry Macaron

Hibiscus Orange Pate De Fruit

Piper Heidsieck Golden Champagne Strawberry Push Pop

Mini Wolfgang Puck Dark Chocolate Bars
Passed Small Plates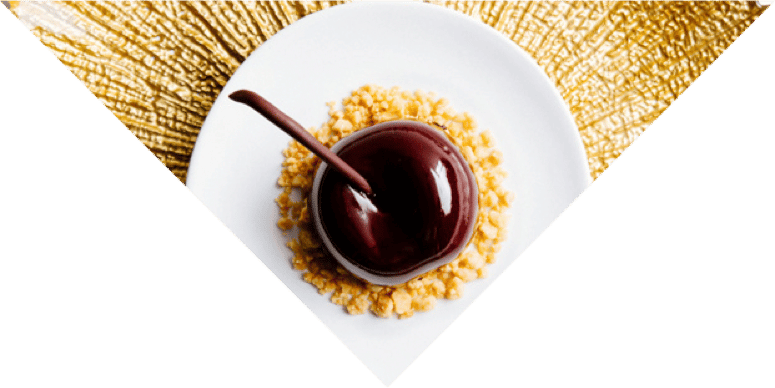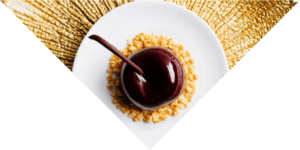 Black Forest "Cherry"

Butterscotch Verrine with Dark Chocolate Nest

Tropical Pavlova with Macerated Jackfruit and Dragon Fruit (V)

Strawberry Ginger Cheesecake with Jasmine Gelee

LOLLIPOPS
Passion Fruit Cheesecake

Praline Almond Chocolate

Chocolate Oscars with Strawberry Valrhona Chocolate
CHOCOLATE BON BONS
Chai Latte

Thai Tea with Young Coconut

Honey Jasmine

Earl Grey Tea Biscuit

Espresso Triple Shot

Praline Roasted Coffee Bean

Dessert Action Stations
MADE TO ORDER
Air Bread "Sea Urchin" with Passion Fruit Caviar

Affogato with Housemade Ice Creams and Stumptown Nitro Cold-Brew
Vegan Sweets (without gluten)
Hawaiian Superfood Spheres

Red Velvet Whoopie Pies

Cashew Vanilla Tiramisu

Tropical Halo-Halo

Sunflower Raspberry Macaron

Chocolate and Sea Salt Cookies

V – VEGAN GF – GLUTEN FREE
OSCARS BY THE numbers
Ball Production by Cheryl Cecchetto / Sequoia Productions.
Menu Created by Wolfgang Puck and Eric Klein, VP Culinary of Wolfgang Puck Catering. Pastry design by Kamel Guechida, Garry Larduinat and Jason Lemonnier. Restaurant-style service directed by Carl Schuster, CEO Wolfgang Puck Catering.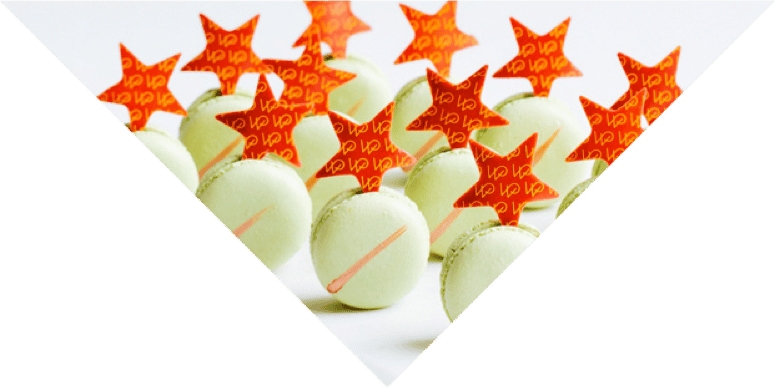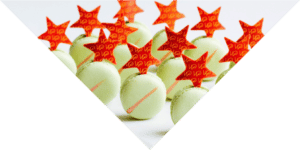 IN THE KITCHEN
200 culinary staff
2,600 pound sculpted ice bar
240 kilos Miyazaki wagyu beef
4 pounds yuzu kotcho
400 each quail
10 gallons buttermilk
100 pounds housemade bread and butter pickles
6,500 wood-fired Oscar-shaped flat bread
3,500 sesame miso cones
350 pounds Atlantic bigeye tuna
10 whole US wild-caught yellowtail
15 kilos American farm-raised caviar
600 pieces housemade wild mushroom pot-stickers
500 uni tongues
5 gallons dashi stock
7,500 individual US shrimp
250 Maine lobster
800 crab claws
225 pounds sushi rice
200 pounds Alaskan King Crab legs
30 gallons housemade cocktail sauce
50 whole yellowtail snapper
50 pounds live scallops
450 pounds house smoked salmon
300 whole loup de mer
2 gallons Pedro Ximenez
2 gallons French olive oil Ahuile de Provence from
black olives
2 gallons Minu-8 vinegar
1 kilo Piment d' Espelette
300 pounds eggplant
500 sheets of nori
20 pounds house pickled ginger
400 homemade signature pizzas
750 cage free eggs
5 pounds smoked trout roe
100 lbs sunchokes
100 pounds Snake River Farms 0/0 Gold Grade
New York sirloin
125 pounds aged Vermont cheddar cheese
250 pounds Parmesan Reggiano
100 pounds five year aged white cheddar
1,500 Yukon gold potatoes
35 pounds winter black truffles from Burgundy
1,000 pounds Jidori chicken
3,500 pieces house made spiced lavash
5 gallons homemade boursin
2,375 housemade pretzel bites
3,500 Fleur de Sel breadsticks
6,000 pieces mini brioche buns
5000 pieces handmade English pea "agnolotti"
200 pounds persimmon
5 whole legs jamon iberico
4 pounds sumac
2 pounds za'atar
50 lbs tapioca pearls
50 pounds white pommellos
50 pounds red pommellos
500 blood oranges
200 pounds fresh ginger
180 each opal apple
200 pounds cavatappi pasta
15,000 pieces handmade torchio pasta
50 pounds caper berries
125 pounds housemade ricotta
150 pounds arugula
100 pounds watercress
75 each yellow cauliflower
75 each white cauliflower
75 each purple cauliflower
750 florets cauliflower romanesco
150 stalks of celery
200 pounds carrots
50 pounds heirloom baby carrots
5 pounds mustard seed
100 pounds radicchio
50 pounds taro root
2019 GOVERNORS BALL MENU
OSCARS BY THE numbers
IN THE KITCHEN (CONTINUED)
3,000 multi-color baby beets
10 gallons Greek yogurt
450 quarts heavy cream
450 quarts milk
450 organic sugar
6500 Valrhona Illanka chocolate Oscar statues
550 Kg of Valrhona dark chocolate
25 Kg of fresh passion fruit purée
20 Kg of aqua fava for vegan pavlovas
10 Kg of gold luster to spray the Oscars statues
10 Bottle of Piper-Heidsieck Champagne
10 flats of strawberries
80 pounds of jackfruit
40 dragon fruits straight from Philippines
5 kegs of Stumptown Nitro Cold Brew
5 gallons of fresh brewed Hibiscus tea for our
pate de fruit
IN THE BALLROOM
1,500 guests
Team of 10 maitre d' staff
850 service and support staff
13,000 glasses for beverages
4,800 small plates
4,500 ramekins and verrines
6,000 cocktail forks
Lighting and video prep in ShowPro's 100% solar powered, carbon-neutral facility.
Over 700 lighting instruments
Mixture of high-CRI LED and incandescent sources
20,000 ft of power cable and 3,000 ft of data control cable to suppor
t lighting
Over 20 lighting practicals
2,500 yrds of royal velvet
800 ft of 1"x4"
2.5 miles of tread
800 ft of pvc pipe
1,000 ft of wire rope
4,200 zip ties
2,000 yrds of soft, elegant color tones including Oyster Metallic Mesh, Platinum Gemstone, Champagne Metallic Nusilk, Bronzine Nusilks, Coffee Bark Taffetas, Antique Ivory Taffetas and Champagne Halo Circle.
Au Lait and Beige Sparkle Velvets in the Governors seating area
5,000 succulents mixed with roses
2 succulent towers
Succulents will be planted at the Motion Picture Television Fund for residents to enjoy.
Over 2 miles of chain and steel holding up the truss ceiling
Over 1 mile of truss supporting the ceiling
Over 700 shackles used to make connections in the ceiling
150 years of experience between audio crew • Over 4 miles of cabling to support speakers, microphones, and audio consoles