By David Saunders, Health Editor | UPDATED: 07:42, 20 November 2019
Black Friday deals are hard to resist – but do we pay the price when it comes to our health?
The team at Treated.com have found that bricks and mortar retail stores are still incredibly popular for those blistering Black Friday deals. But with so many people rushing to get their hands on the pre-Christmas bargains, battling to the very front of the sales queue carries its own risks:
Crowding in shops and shopping malls can reach dangerous levels, leading to an increased risk of falls and injuries;

Avoiding sleep altogether to be the first to get your hands on Black Friday deals can lead to sleep deprivation – sleep issues affect as many as 33% of UK adults;

With reams of shoppers – some behaving erratically – it can cause unnecessary stress to an already busy and trying situation.
While Black Friday can be hugely beneficial in sorting out some much needed Christmas presents with a big discount, the experience can be overwhelming. Dr Daniel Atkinson, Clinical Lead at Treated.com, has some tips to help you on one of the biggest shopping days of the year.
"If your environment is becoming too crowded, take a moment to determine whether you're able to fully inhale and exhale. If it's a struggle to breath or you're feeling so hot to the point of fatigue, make your way to an exit to get some fresh air."

"Falling over is likely in crowded, busy areas. If you do fall, it's important not to panic – check yourself to make sure you're okay and get some help getting up if you need it. Check your head for any bruising or bleeding and head to A&E if you have any trouble communicating, if there's a loss of feeling in certain parts of your body or if your eyesight changes."

"Going without sleep has a huge effect on your psychological and physical well-being. Staying up all night to prepare for Black Friday can leave you feeling irritable, emotional and even weak – in the short term, this is manageable but if sleep deprivation affects you over a long period of time, it can reduce your quality of life."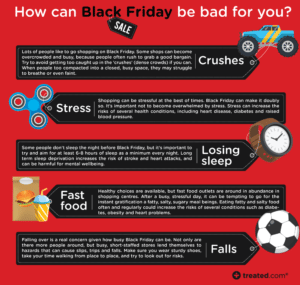 We also spoke to Dr Art Markman, Professor of Psychology and Marketing at the University of Texas and author of Bring Your Brain to Work, about the psychology behind Black Friday and why shoppers act erratically.
"Giving gifts for the holidays can be stressful – you want to get your loved ones something they'll like, and some people are on tight budgets for Christmas. Supplies are often limited and these situations can drive someone to act erratically."

"Thanksgiving is meant to be a day of gratitude and togetherness, but it may bring long-standing family tensions to the surface and make the gift-buying process even more stressful."

"Sought after items at a low and affordable price give consumers a motivated energy, but this can spill into frustration." 
---