Last updated on January 6th, 2023 at 10:20 AM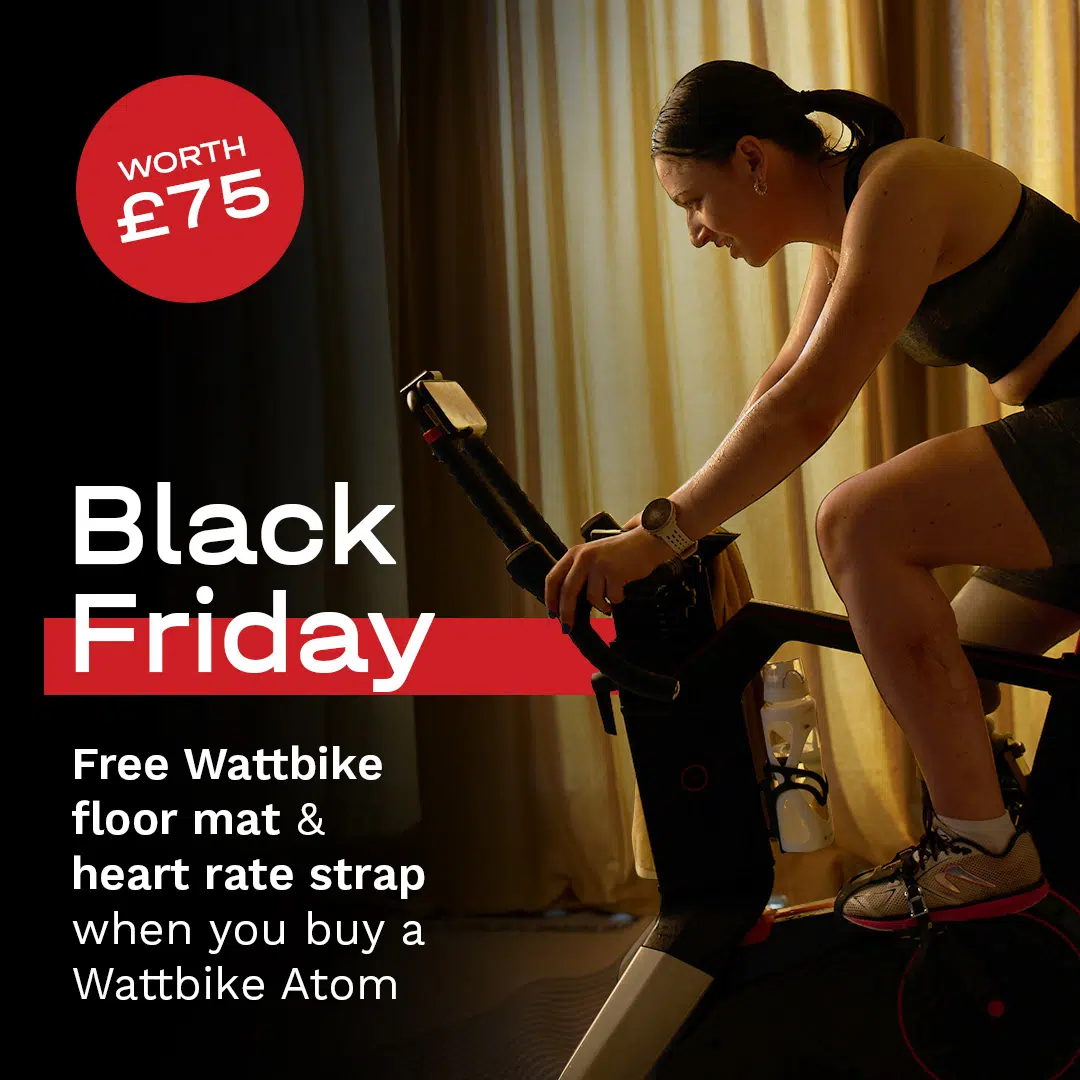 Indoor cycling brand Wattbike to launch Black Friday deal on Friday 19 November 2021, ending at midnight on Tuesday 30 November 2021.
It's time to fully embrace the winter training season which, for many people, means taking their cycling indoors.
Getting set up with an indoor cycle trainer is a must for any cyclist or fitness enthusiast to combat the darker nights and icy roads, allowing you to train at any time.
Indoor cycling also has the benefit of providing structured workouts, which are ideal for getting ready for the summer race season.
Wattbike's Black Friday deal of a free heart rate strap and floor mat (RRP £75) enables users to get fully set up with everything they need for winter training as well as opening up a world of benefits such as enhanced metrics and data insights, allowing them to make the most of their training and see tangible results – not to mention performance in winter Zwift races.
A heart rate strap gives more detailed feedback on a workout and allows users to plot training zones, which are vital for structured training plans.
The Wattbike Heart Rate Strap uses dual-mode wireless technology to connect seamlessly to any Wattbike or smart device.
Cycling indoors often means sweat and noise, both of which are taken care of with the Wattbike floor mat.
The simple, stylish black floor mat is made from 6P-free PVC which reduces noise, allowing users to train day or night as well as protecting the floor so that users can set up in any room of the house.
The Black Friday offer is automatically activated at checkout when purchasing a Wattbike Atom.
Richard Baker, CEO of Wattbike, said, "the Wattbike Atom is an invaluable tool for maintaining fitness as well as enjoying virtual racing over winter when cycling outdoors isn't always possible or safe.
With more people than ever catching the cycling bug, Wattbike Atom is perfect for everyday and elite athletes to benefit from the performance improvements that indoor cycling offers".
The Wattbike Atom retails at £1,999 – for more information please visit: https://wattbike.com/products/wattbike-atom