By David Saunders, Health Editor | UPDATED: 08:28, 08 July 2020
We all want our skin to look great and try to care for it as best we can, but the oh so common combination of busy lives, stress and not to mention hormones means this isn't always the reality!
Omega 3 Fats are essential
Dr Marilyn Glenville, (www.glenvilleclinics.com) the UK's leading nutritionist and author ofNatural Alternatives to Dieting explains why Omega 3 fats are so important; "Your body needs these oils to keep your skin elasticated and hydrated and your hair soft and shiny. As the name implies these omega 3 essential fatty acids are essential and you can only get them from your diet. Your body cannot manufacture them so you have to eat them. Omega 3 fatty acids help prevent wrinkles, delay the ageing process of the sun, keep skin supple and prevent inflammation of the tissues, which damages skin cells. Despite all these benefits most of us don't eat enough oily fish, like mackerel, in our diet. Eat at least two 140 g portions of oily fish a week."
Consider Collagen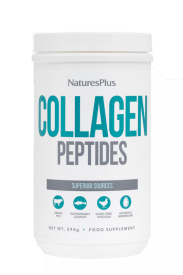 Perhaps the best-known benefit of collagen is that it is great for our skin. This protein provides skin with elasticity helping it to appear healthy and youthful! Collagen is the most abundant protein in our bodies and supports a wide range of tissues!
Unfortunately, collagen starts to decrease when we reach our mid 20's. Martina Della Vedova, nutritionist at Natures Plus (www.naturesplus.com) recommends taking a collagen supplement- great for helping to achieve that desirable glow.
Martina explains, "Natures Plus Collagen Peptides is in powder form, meaning absorption is easier and quicker and the serving amount is much higher, it provides 10 grams per scoop where a tablet wouldn't be able to deliver more than 1 gram".
Try the Brand New Natures Plus Collagen Peptides (RRP £24.50, www.health-emporium.co.uk). Add one or two scoops to water, juice or your favourite beverage to enjoy clean ingredients with a clean taste.
CBD oil to treat acne
There is some evidence to suggest that CBD oil may be helpful for acne. What this means for skin health may vary slightly in each case, as this can be based on what kind of acne a person has and what might be causing it.
The thought behind this is that CBD oil may help reduce various types of acne thanks to its ability to adjust how the body creates sebum. Sebum is a waxy, oily substance the skin makes. Sebum helps protect our skin from our exteriors – however, it can mix with dead skin cells, dirt, or other pollutants and become trapped inside a pore. This clogged pore then becomes acne. CBD oil also has anti-inflammatory properties
Nutritionist Alix Woods working in association with CannabiGold (www.cannabigold.com) explains "CannabiGold classic 500MG CBD oil (£29.90, www.bionativa.co.uk) contains not only the skin supporting vitamins A, D & E but it also contains; protein, which is necessary for the structure, function and regulation of tissues, especially of the skin.
It's a complete protein as it contains all 20 amino acids including the 9 essential amino acids the body is unable to make; The Essential Fatty Acids, Omega 3, Omega 6 and Omega 9 that keeps the skin moisturised, balances oily skin, prevents dry skin and reduces acne caused by excess oil. Zinc, which helps control oil glands in the skin, promotes healing and may prevent acne.