By David Saunders, Health Editor | UPDATED: 15:42, 29 October 2019
Cosmetic procedures, both invasive and non-invasive, are slowly beginning to permeate our selfie-obsessed society, perhaps arguably becoming a new beauty 'norm'.
The latest cosmetic surgery statistics show that in 2018 in the UK, more than 28,000 procedures took place, whilst 92% of patients were female (according to BAAPS).
Furthermore, BAAPS identified that the top 3 procedures in the UK in 2018 were: breast augmentation, breast reduction, and eyelid surgery.
These statistics only reflect those who have actively had surgery. But there are many more people who are intrigued by the possibility of plastic surgery.
To explore this growing industry, Cosmetic Surgery Specialists Flawless.org decided to investigate the plastic surgeries individuals Google the MOST and the LEAST.
Flawless.org picked the top 9 plastic surgeries and identified search volumes per surgery in the UK, Germany, France, Italy and Spain.
The results for the UK: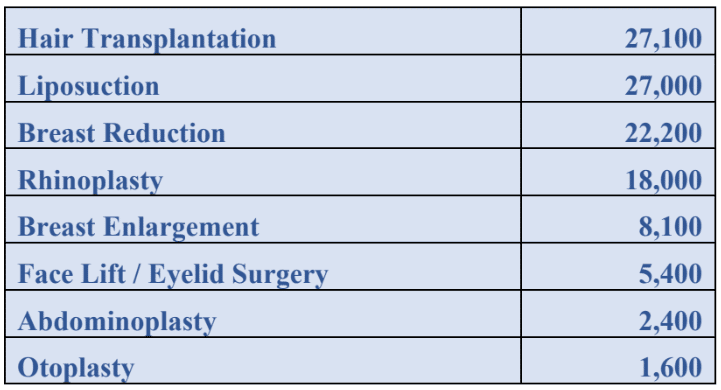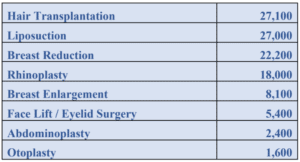 Even though Hair Transplantation is not amongst the top 3 performed procedures in the UK, it is the MOST searched by Brits with an astonishing 27,100 monthly searches on average.
The second most searched procedure is Liposuction. It is almost as popular as Hair Transplantation with searches per month of 27,000.

Remarkably, the third most searched surgery is the one from BAAPS top 3 list – Breast Reduction, with average monthly searches totalling 22,200.

Finally, the LEAST searched plastic surgery by Brits is Otoplasty. This ear reshaping procedure receives an average of only 1,600 searches per month.
Flawless also researched, which plastic surgeries are MOST and LEAST searched for in France, Italy, Spain, and Germany, as shown in the graphics.