By David Saunders, Health Editor  | UPDATED: 11:28, 01 April 2020
England, Manchester United and West Ham United football legend Rio Ferdinand has announced he will be returning to THE CAMPUS, Europe's newest five-star multi-sport and wellness hub at Quinta do Lago in the Algarve in Portugal, to host another series of fun and engaging junior football training camps during.
Rio will host the camps during the summer holidays from August 5th – 9th and August 12th – 16th for children of all abilities and 5-15 years of age.
Rio will share his experiences of playing in one of the most famous and successful football clubs in the world and will offer training tips gathered over the course of his amazing playing career.
The Campus is delighted to woking once again in partnership with Football Escapes, who run junior football camps at some of the finest and most exclusive resorts around the world. Once again this year the camps will include other current and ex-professional footballers.
Rio says:
"I can't wait to be back at The Campus in Portugal. We will be putting on training sessions that are fun and informative, and focus on learning with a smile! The facilities at The Campus are second-to-none and with the great weather in the Algarve, this is a fantastic opportunity for young players to have an unforgettable football experience."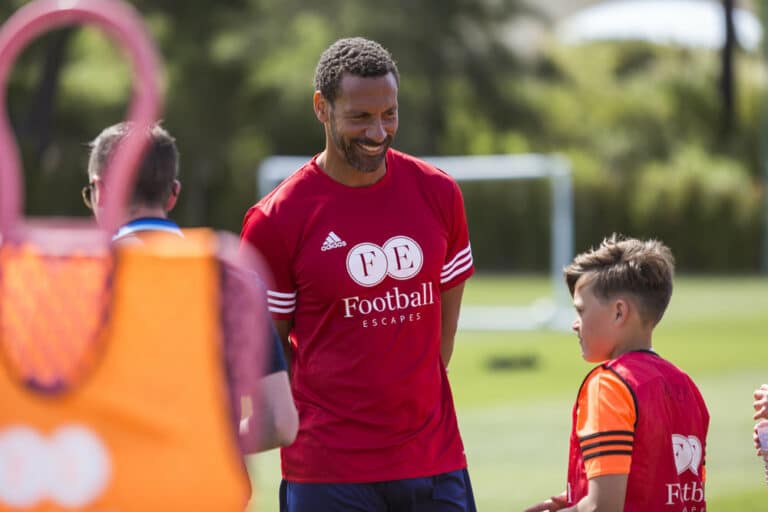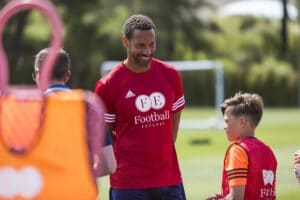 Sean Moriarty, CEO of Quinta do Lago, says the football camps are a great addition to The Campus as Europe's premier multi-sport and wellness destination for family sporting holidays.
Sean says: 
"We are really looking forward to welcoming Rio back to The Campus. The football training camps with Rio and other pro's and ex-pros have been fantastic and are a once in a lifetime experiences for young football fans. This is a unique opportunity for young players to see what it's like to reach the highest standards. We are proud to host these training camps over the course of 2019."
Rio is the latest addition of high-profile stellar sports stars adding to a world class level of sports coaching and mentoring who are now partnering with The Campus.
Former Great Britain Federation Cup captain Judy Murray will also be returning to The Campus to host more junior and adult tennis camps. Irish rugby legend Brian O'Driscoll will also continue his partnership with The Campus and will see him host junior rugby camps on the pristine training pitch that has already been used by top Premier League football clubs, German Bundesliga sides and international rugby teams.
Rio adds:
"I am looking forward to working with the kids at The Campus at what is a world class training facility. The quality of the pitch we will be using is as good as anything you will find at a Premier League club and the High Performance Campus is also a top quality facility. We will put on some great sessions and I look forward to seeing your kids there."
The Campus is one of Europe's newest state of the art sports venue, created for elite athletes, teams and for families as well. The Campus is already becoming popular with Premiership football and rugby teams, Olympic and Para-Olympic squads, performance athletes and coaches who are taking advantage of the perfect training climate and using The Campus as their warm-weather training base.
The recently opened High Performance Campus has added to The Campus' stellar reputation and cemented its reputation as the outstanding location for holiday makers looking for the ultimate sporting break, with dance classes, yoga, swimming and state-of-the-art saunas, steam rooms and wellness areas adding to the appeal.
"The Campus further elevates Quinta do Lago as one of the finest sports and leisure destinations in the world. The beauty of this complex is you don't have to be a world-class or even professional athlete, as we also welcome guests who simply want to use the facilities at their leisure for fitness or as a hobby."  added Sean Moriarty.
Visitors to The Campus will experience world class tennis and padel courts, a wonderful cycling centre led by Paralympic gold medalist Mark Rohan, as well as a top class swimming
facility and a wellness section of the high performance hub that offers all visitors the ideal chance to unwind after an exhausting workout.
SUMMER FOOTBALL CAMPS 2019
Dates: August 5th – 9th and August 12th – 16th  2019

Hosted by ex-professional footballer legend Rio Ferdinand

Open to children of all abilities

Aged 5-15

Other UEFA licensed coaches will also assist with the coaching

Each child will also be provided with full kit: shirt, shorts, socks, a medal and signed certification.

Places are limited so to avoid disappointment, book your children's place now!
TO BOOK
Call on +351 289 381 220

To book online visit  – www.quintadolago.com/en/the-campus/soccer-camps/
ABOUT RIO FERFINAND  
Rio Ferdinand was born 7th November 1978. He is an English former professional footballer who played as a centre back, and current television pundit for BT Sport.
He played 81 times for the England national team between 1997 and 2011, and was a member of three FIFA World Cup squads. He is regarded by many to be one of England's greatest ever players and he is one of the most decorated English footballers of all time.
Ferdinand began his football career playing for various youth teams, finally settling at West Ham United where he progressed through the youth ranks and made his professional Premier League debut in 1996.
He became a fan favourite, winning the Hammer of the Year award the following season. He earned his first senior international cap in a match against Cameroon in 1997, setting a record as the youngest defender to play for England at the time.
His achievements and footballing potential attracted Leeds United and he transferred to the club for a record-breaking fee of £18 million. He spent two seasons at the club, becoming the team captain in 2001.
He joined Manchester United in July 2002 for around £30 million, breaking the transfer fee record once more. He won the Premier League, his first major club honour, in a successful first
season at the club. In September 2003, he missed a drugs test and was banned from competition for eight months from January until September 2004, causing him to miss half a Premier League season, Manchester United's FA Cup triumph, and the Euro 2004 international competition.
Upon his return, he established himself in the Manchester United first team and received plaudits for his performances, featuring in the PFA Team of the Year four times in five years.
More club success followed with another Premier League win in the 2006–07 season and a Premier League and UEFA Champions League double the following year. His career at United, in which he won six Premier League titles and 14 trophies, ended when his contract expired in 2014, and he subsequently joined Queens Park Rangers where he played for just one season before being released from the club as a result of their relegation from the Premier League. He announced his retirement from professional football on 30 May 2015.
In September 2017, Ferdinand announced his intention to become a professional boxer, partly to help him cope with the death of his wife.  His brother, Anton, also a centre back, plays for St Mirren. Former England international striker Les Ferdinand and former Dagenham & Redbridge midfielder Kane Ferdinand are his cousins.
ABOUT THE CAMPUS
Built in the summer 2017, The Campus provides training, coaching and wellbeing programme to Quinta do Lago residents and guests alike. The sports and wellbeing resort and high performance training centre catering for adults and juniors as well as elite professional athletes and teams. The Campus welcomes everyone – from future Olympic Games competitors through to amateur, grassroots and families enjoying a family sports holiday.
The Campus is located just 15 minutes from Faro airport and the resort offers guests an unparalleled location benefiting from a year-round temperate climate. The resort offers a variety of lifestyle and sporting pursuits, a strong sense of community and offers residents, guests and holiday makers alike the chance to train, exercise and socialise.
What's on offer:
Stadium quality DESSO GrassMaster hybrid pitch

Technical area

High performance gymnasium

Centre for active living and sports medicine

Recovery suite including hot/cold plunge pools and sauna and steam rooms

Studios for cycle and group exercise

Stadium specification locker room

Team rooms with high tech analysis capability

25m heated indoor swimming pool

Four acrylic tennis courts

Two synthetic clay tournament specification tennis courts

Four padel courts with shock pad features

The Bike Shed – a hub for cycling

Dano's Sports Bar & Restaurant
ABOUT FOOTBALL ESCAPES 
The Campus is delighted to partner with Football Escapes. Football Escapes provide premier football coaching courses in partnership with some of the finest and most exclusive resorts around the world. The difference is, all our courses are led by current and ex-professional footballers. Our relationship with hotels and resorts means we're able to provide families with best available prices for their holiday. All combined, we work to create memories that last a lifetime.
Players and coaches immerse themselves fully on and off the pitch providing families a money can't buy experience to help make that special holiday even more exceptional. Whether it's around the pool, by the bar or at breakfast, our team are on h
and and always happy to say hello. What's more, this all takes place at some of best resorts and spa hotels in some of the most breathtaking locations in the world.
Football Escapes partners with Inspiring Travel Company, which means they also offer families the best possible rates and ATOL protected packages to create you a bespoke holiday of a lifetime. All combined, Football Escapes offers families a truly magical experience where special moments last a lifetime. Not just for children participating on our courses, but for parents, family and friends.
More information and to book camps here – www.footballescapes.com/destinations/portugal
ABOUT THE MAGNOLIA HOTEL 
Guests can stay at The Magnolia Hotel, situated on the doorstep of The Campus and Quinta do Lago resort. It has a range of accommodation including 74 boutique rooms, three suites and seven cottages.
The rooms have been recently been fully refurbished and the five-star service will help guests unwind and destress at the end of their day.
The Magnolia Hotel offers a beautiful heated outdoor pool and the pool area is at the heart of the hotel. Guests can also visit the spa and holistic rooms and reconnect with mind and body.
For guests that are feeling energetic and in need of a good stretch then there is a fully equipped gym with premium quality equipment. The experienced personal trainers are available to help guests work out. There's a shuttle bus service to The Campus for all guests too.
ABOUT QUINTA DO LAGO
Synonymous with elegance and privacy, Quinta do Lago is an exclusive golf and residential estate of nearly 2,000 acres bordering the Atlantic Ocean and nestled within the privacy and security of the Ria Formosa nature reserve.
Quinta do Lago is one of the most desired resorts in Europe and allows you to live an active outdoor lifestyle all year round, offering real estate plots between deserted dunes, sheltered pines, breath-taking beaches surrounded by three award-winning golf courses.
Since its inception, Quinta do Lago has been at the forefront of European golf with three award-winning championship courses matched by outstanding practice facilities including Europe's only Paul McGinley Golf Academy and the only Taylor Made Performance Centre in Southern Europe.
Among its recent accolades, the resort was voted 'Europe's Best Golf Venue' at the 2015 and 2016 World Golf Awards. Quinta do Lago has enjoyed the honour of hosting eight Portuguese Opens as well as numerous other international golf tournaments and its world-class golf facilities are some of the best anywhere in the world.
Away from the fairways, Quinta do Lago now adds to its portfolio extensive state-of-the art leisure and racquets facilities guaranteed to keep families occupied with regular tennis and padel tennis events,  cycling tours of the West Coast, family bike trips, a wide range of water, beach and lake sports as well as cultural and nature trips.
The resort's stunning location by the beach offers the perfect place to relax and unwind while its wide array of restaurants, both formal and informal, take advantage of the fresh Mediterranean produce that the resort has become famous for.
Sports, fitness and wellbeing activities 
Follow on social