By David Saunders, Health Editor | UPDATED: 08:28, 08 July 2020
This Veterans Day, Rhone apparel are partnering with Performix to raise money for FitOps whilst also shedding a much-needed light on the issue of veteran suicide.
The guys at Rhone are going to generously donate 100% of  the proceeds from your purchase  of  this shirt to  the FitOps Foundation   to  help veterans achieve greatness in fitness and in  life.
Rhone Ceo Nate Checketts is also hoping people will participate in the the #CanYouSuperman challenge.
1. Record a video of you explaining what the FitOps Foundation is and what the superman challenge is.
2. Record a video of you attempting a superman pushup.
3. Tag @fitops_foundation, @performix and @rhone.
4. Post to all social channels with the hashtag #CanYouSuperman and call out 5 other influential friends.
5. Ask people who do the challenge to donate $20 at canyousuperman.org
The Fitness Operatives mission is a certification program for veterans who want to become elite personal trainers. The on-site program concludes with certification of fitness industry professionals–who are experts in exercise and in leadership–designated as Certified Veteran Fitness Operatives (CVFO).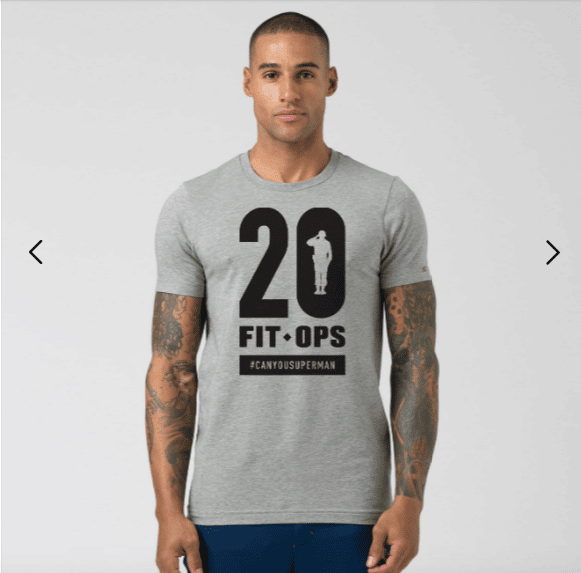 They help veterans who are passionate about health and wellness to find success after the military in the fitness industry. The goal is not just to help veterans to get certified as personal trainers, but to create a path for servicemen and women to use their leadership skills to help improve the lives of others.
For this reason, the program focuses on qualification not simply certification as professionals in the fitness industry.
To learn more about FitOps Foundation visit: fitops.org
PERFORMIX is a performance lifestyle brand, rooted in disruptive innovation, consumer experience, and a performance driven mindset. They create products, content, and services that provide an edge in fitness and in life.
Rhone is a premium activewear engineered for men. its mission is to inspire each other to dare and achieve in the pursuit of progress, performance, and wellness.