Last updated on February 28th, 2022 at 02:31 PM
With it being Pancake Day today, we wanted to share a delicious Cookies & Cream protein pancake recipe, plus a cheat's product for quick pancakes & some scrumptious topping ideas, with expert recipes from sports and active nutrition brand, Bulk.
Using Bulk's mouthwatering White Chocolate Pure Whey Protein, the pancakes are topped with Bulk's irresistible White Chocolate Hazelnut Spread, a chopped up bar of Cookies & Cream Macro Munch and Chocolate Caramel Zero Calorie Syrup.
Cookies & Cream Protein Pancakes
Recipe supplied by Bulk ambassador Joanna Lowy 
INGREDIENTS
For the pancake batter:
For the topping:
METHOD
Blitz up all the ingredients for the pancake batter in a blender (except the cacao powder and the coconut oil)
Divide the mixture into 4 bowls. In the first bowl mix 1 tsp of cacao powder, 1/2 tsp into the second, 1/4 into the third and leave the fourth bowl plain.
Melt some of the coconut oil in a frying pan over a medium-high heat.
Add some of the batter from the first bowl and when bubbles start to form on the surface flip them over and cook for a further 30 seconds–1 minute.
Repeat with the remaining batter.
Arrange the pancakes on your plate, from the darkest colour up to the lightest. Drizzle with Bulk's Chocolate Caramel Zero Calorie Maple Syrup, Bulk's White Chocolate Hazelnut Protein Spread and a chopped up Bulk Cookies & Cream Macro Munch protein bar.
And for you busy fitness fanatics looking for a quick and easy solution can also opt for Bulk's Protein Pancake Mix and get creative with Bulk's range of yummy pancake toppings; think flavoured peanut butters, protein spreads, or indulge in some crumbled Macro Munch Peanut Butter Cups.
PROTEIN PANCAKE MIX – £8.99 (500g)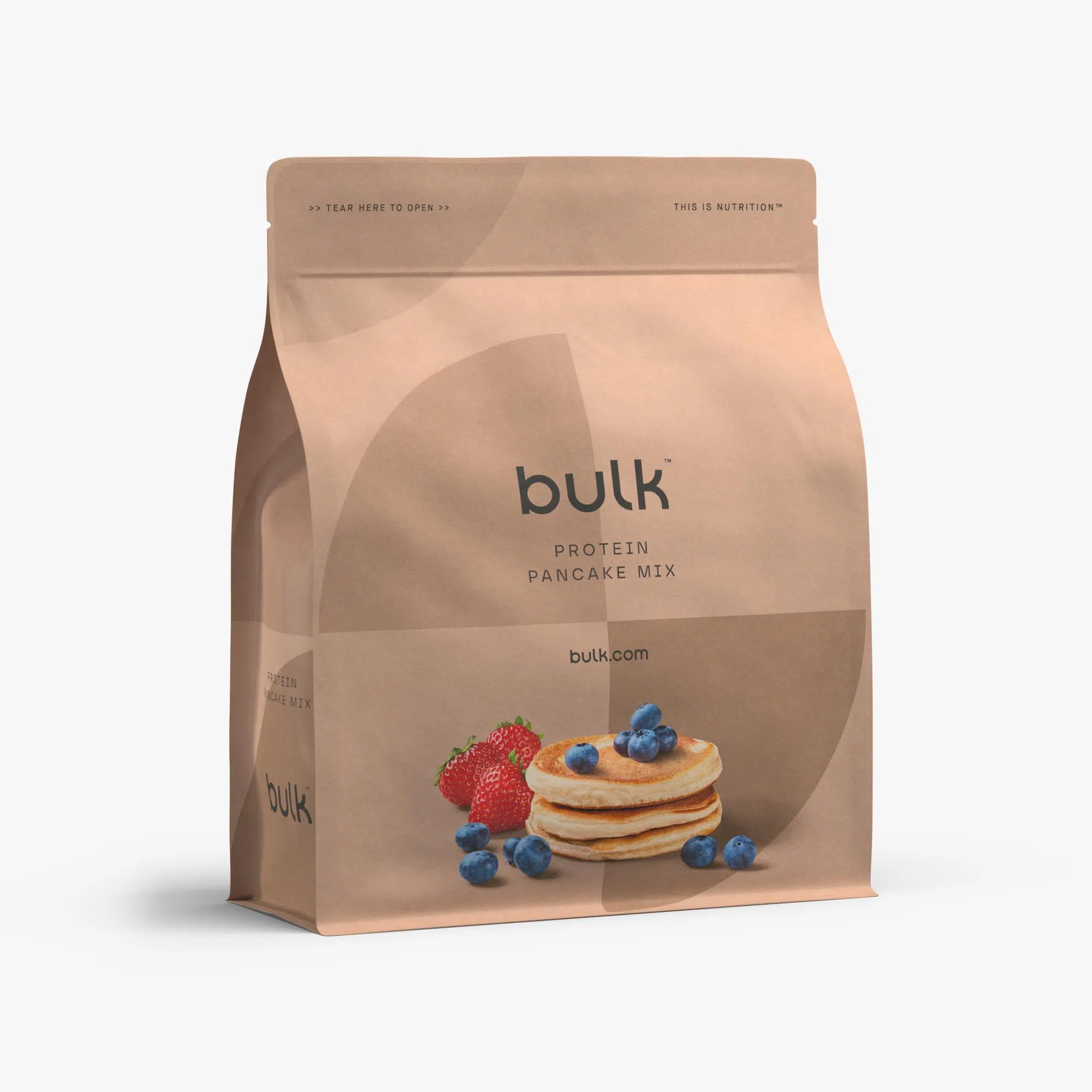 Original, Maple Syrup, Lemon Zest
Bulks Protein Pancake Mix is a tasty way to enjoy Pancake Day whilst increasing dietary protein intake as part of a healthy balanced diet.
Combining whey protein concentrate, milk protein concentrate and egg protein, each serving of pancakes provides a healthy hit of protein.