By David Saunders, Health Editor | UPDATED: 08:28, 26 June 2020
Rowing across the Atlantic, trekking in the Guyanese jungle, canoeing on the Amazon and building a toilet block for orphans in Peru before taking on the Salkantay trail to Machu Picchu. These are some of the highlights of The Ulysses Trust's 2018 Prince of Wales's Expeditionary Awards which this year included a special individual commendation.
Each year the Trust presents the awards for the best expeditions it has supported in the previous year. These awards highlight the very best in leadership, challenge, courage and planning. The categories are: Cadet Forces, Volunteer Reserve Forces and University Officers' Training Corps Units. Each of the award-winning units will receive a unique certificate signed by The Ulysses Trust's patron, HRH The Prince of Wales.
The awards were announced last year, but the formal presentations will be made over the coming weeks at several events across the UK as follows:
Presentation Date: 3 Oct 2019
Event: Employer Engagement Dinner, Northampton Saints Rugby Club
Presented by: HM Lord Lieutenant of Northamptonshire Mr David Laing
University Category: Exercise: GUYAN EMU
Ten students from East Midlands Universities' Air Squadron (based in Beeston, Nottingham) travelled to the South American Guyanese jungle. Here they constructed a camp designed by the local people to support the local tourist trade and benefit the local population.
Afterwards the students undertook nine days of jungle survival training, which included fire lighting, navigation and hunting. Officer Cadet Jinni Sur said, "For me the expedition had a bit of everything, I overcame mental and physical challenges as well as learning about some of my strengths. I got to give to a community as well as take away an array of knowledge from it. Not only this but I got to do all this in such an environment I never thought I'd get to experience…the jungle!"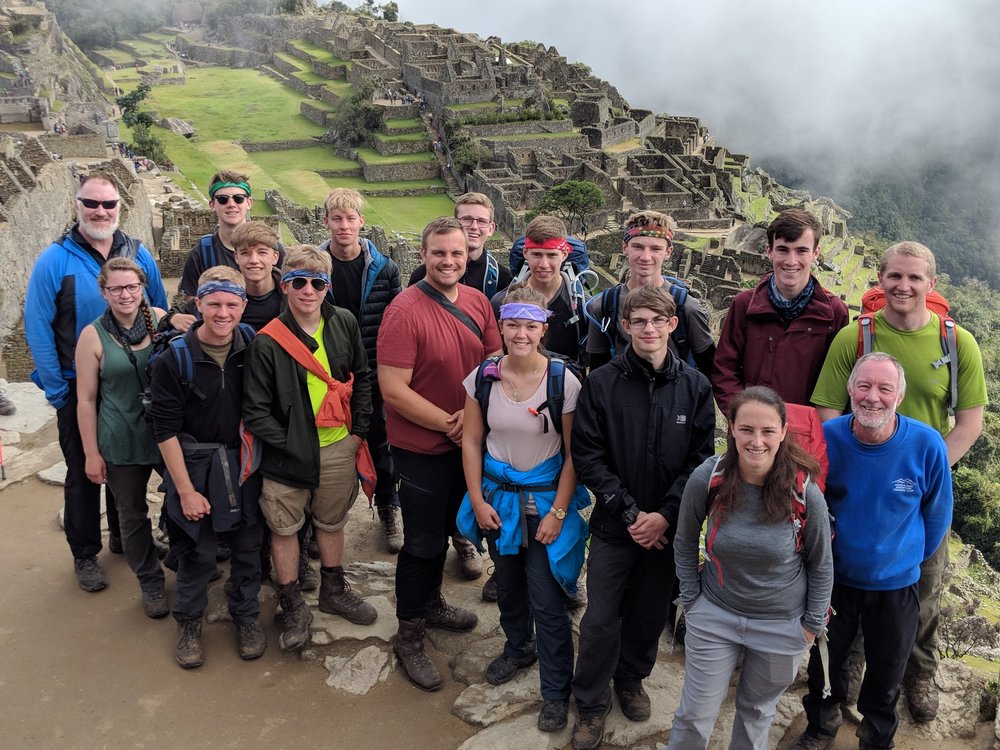 Presentation Date: 22 Oct 2019
Event: Lord Lieutenant of West Sussex's Award Ceremony, Christ Hospital School Horsham West Sussex
Presented by: HM Lord Lieutenant of West Sussex Mrs Susan Pyper
Cadet Category: Exercise: INCAN VENTURE ADVENTURE
This ambitious exercise was undertaken during the RAF 100 celebration year. It saw 24 Cadets and 8 staff from Sussex Wing Air Training Corp (Seaford, East Sussex) travel to Peru where they helped build a toilet block for an orphanage on the outskirts of Cusco. Following this, the Cadets completed a five-day 75km trekking expedition on the Salkantay trail. Cadet Harvey Betts of 1015 Horsham Sqn said: "I didn't realise what an effect the project would have on me, I came here for the mountains but will be going home more thankful for the little things I have and the support of my family because these guys just don't have that."
Presentation Date: 24 October 2019
Event: HRFCA Southern Area Meeting, Stirling Army Reserve Centre
Presented by: TBC
Reservist Category: Exercise: NORTHERN AMAZON SERPENT 2018
A team of 17 Reservists from 225 Medical Regiment (Glenrothes, Fife) completed 150-mile canoe journey down the Amazonian River Negro in Brazil. Each day consisted of 6-8 hours of canoeing which was broken up by periods of trekking into the jungle.
Here the group learned survival skills, observed jungle wildlife and met members of the local population. LCpl Trevor Stewart East said, "During the trip we trekked in to the jungle and learned many skills and techniques vital to survival in the jungle from shelter building, where to find clean drinking water, how to get a fire lit and hunting and foraging for food."
Presentation Date: 31 Oct 2019
Event: Lord Lieutenant of Oxford's Award Ceremony, Pembroke College Oxford
Presented by: HM Lord Lieutenant of Oxford Mr Tim Stevenson
PRINCE OF WALES'S COMMENDATION: Exercise: ATLANTIC TRIDENT 2017
Between Dec 17 and Jan 18 Cadet Force Adult Volunteer Sergeant Jordan Beecher (an ambassador for Oxfordshire Army Cadet Force) and Captain Jon Armstrong rowed over 3,000 nautical miles across the Atlantic Ocean in the Talisker Whiskey Atlantic Challenge – the world's toughest rowing race. The pair endured storms, 40-foot waves, physical and mental hardship and capsizing, to set a new World Record for the fastest pair's crossing of the Atlantic.
What makes this achievement even more remarkable is that Sergeant Beecher is a below knee amputee following an explosion whilst serving with the Parachute Regiment in Afghanistan. Captain Armstrong said, "Whilst on the Atlantic the conditions pushed us both to our physical and mental limits and we came to rely on each other for comradeship, companionship and survival."
The Ulysses Trust welcomes applications from Cadet, Reservist and University Officer units seeking financial assistance for their own expeditions. The Trust also welcomes donations to help support others to benefit from these life-changing experiences. Find out more or make a donation via www.ulyssestrust.co.uk