By David Saunders, Health Editor | UPDATED: 08:28, 08 July 2020
Following the huge success of its first year in 2018, Sole Bliss are thrilled to announce the return of National Bunion Day on Thursday 25th April 2019 in collaboration with brand ambassador Dr Dawn Harper.
With over 14 million people in the UK alone suffering from bunions, National Bunion Day strives to remove the stigma surrounding the topic and raise awareness of the painful problem, whilst also providing practical advice, solutions and fashionable options for living happily with the condition.
Sole Bliss was launched in 2017 by designer Lisa Kay following five years of research and development. Elegant, yet deep and spacious at the front, their shoes use patent-pending Juanet Technology ® to provide stylish shoes for ladies with bunions and wide feet.
With over 10 million women in the country suffering from bunions, Sole Bliss and media personality Dr Dawn Harper (a bunion sufferer herself) have joined forces once again to raise awareness for National Bunion Day 2019 – given her wealth of medical expertise and personal experience of the condition, Dr Dawn is the perfect ambassador for the campaign and the brand.
Dr Dawn is both an esteemed NHS doctor and a private doctor in Harley Street. She has been a media doctor for over thirteen years, accumulating a wealth of medical knowledge and experience, as well as notably hosting Channel 4's hit series 'Embarrassing Bodies'.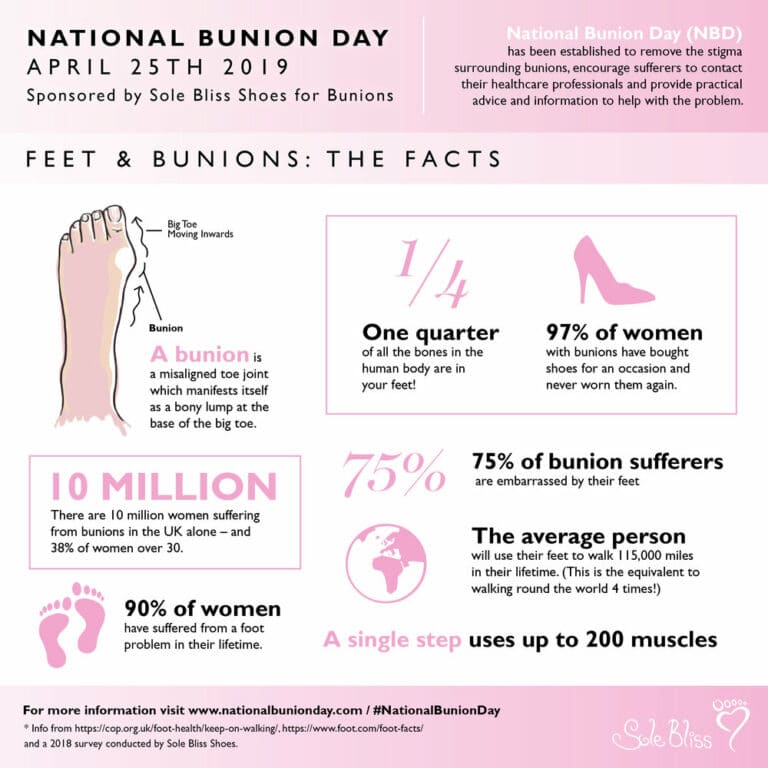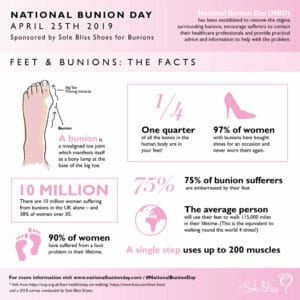 With 38% of all women aged 30+ suffering from bunions and studies finding that over 75% of those with bunions are embarrassed by their feet, National Bunion Day on Thursday 25th April 2019 aims to encourage more people to speak up about the taboo subject and provide a comfortable solution.
Lisa Kay, Founder of Sole Bliss comments:
'We are thrilled to be working with Dr Dawn again – she has been an excellent patron of the brand and the perfect medical expert for us to have on board. Following the huge success of National Bunion Day 2018, I hope that together we can continue to remove previous stigmas and let women who currently suffer in silence know that there is a brand new range of on-trend, stylish shoes designed especially for them.'
Dr Dawn Harper, Brand Ambassador of Sole Bliss comments:
'I'm honoured to be involved with Sole Bliss for a second year. As a sufferer of bunions, I am so pleased to work with a brand whose shoes are not only gorgeous but also provide women the guarantee of comfort. As a GP, I often have people in my clinic who are embarrassed and unsure about how they can manage the condition.
This is exactly why I believe National Bunion Day is crucial – so we can inform the public that millions of people have them, they are not something to be ashamed of, and there are solutions'.
National Bunion Day is Thursday 25th April 2019. For more information please visit www.nationalbunionday.com
The full Sole Bliss range is available at www.solebliss.com.