By David Saunders, Health Editor | UPDATED: 08:28, 08 July 2020
According to a recent Mental Health Foundation survey, nearly two-thirds of Britons (65%) say that they have experienced a mental health problem.
This figure rises to 7 in every 10 women, and in young adults aged 18-34 and people living alone. Each week we read stories indicating a significant rise in anxiety in our society, particularly in young people.
As a practicing clinical hypnotherapist for 15 years, Chris Hughes is all too familiar with this phenomenon and has decided to use his talents and celebrity connections to make a positive impact in recognition of Mental Health Awareness Week this May.
"Stress and anxiety are taking a massive toll, particularly on the younger people in our society and I am seeing it daily. So many people feel trapped by their anxiety, but I believe understanding why, is the key to finding a solution and taking back control of their minds," he says.
It is this insight that led Chris to come up with a unique charity event concept. #SocialTrance – The Body Image and Anxiety Workshop will see Chris joined by a host of celebrities for a journey into the mind. Through discussion, exercises and group hypnotherapy, guests will be able to uncover the sources of anxiety and bring them to light.
"I work with a lot of celebrities both on TV and in therapy and many of them feel very close to this issue and wanted to make some kind of contribution, even simply by sharing their own experiences," says Chris, "With actor Paul Danan, Big Brother 2018 contestants, Akeem Griffiths and Tomasz Wania, First Date's Jay Watkin and Ben Jardine of Married at First Sight on stage there's sure to be a few laughs and plenty of entertaining banter to balance out the more serious discussions."
Other celebs lending their voices to the cause include musician Shane Nolan, presenter Nadia Essex, reality TV star White Dee, Para-Olympian Micky Yules and actor Thomas Turgoose.
Chris himself is well-known for his TV appearances where he often teams up with celebs to demonstrate the power of hypnosis in varying situations. As entertaining as these feats can be, Chris is also a certified clinical therapist, specialising in helping people with anxiety.
"I am a strong believer that hypnosis for entertainment is not a bad thing if done in a safe way with proper training. Most people get their first introduction to the power of hypnosis through, for example a stage hypnosis show at university. So, I use these demonstrations to not only provide fun for the guests but also as a way to demonstrate the power of suggestion."
At this special event on the 14 May, Chris will use volunteers to demonstrate how negative thought processes and phobias are created and show how they can be overpowered through simple techniques.
While he assures that there is absolutely no obligation to take part in any of the activities, he invites guests to simply attend to listen, laugh and learn, as well as contribute to a good cause. All proceeds from the event will be going to the Mental Health Foundation.
Guests will have the chance to meet the celebrities and have photos after the show.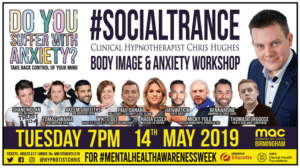 Social Trance – The Body Image and Anxiety Workshop
Tickets: Adults £17 | Under 18s / Students £10
Venue: Midlands Arts Centre, Birmingham
Doors: 6.30pm / Event starts: 7.00pm – 10pm
Tickets can be purchase here http://bit.ly/2XCaJml
About Mental Health Awareness Week
Mental Health Awareness Week 2019 will take place from Monday 13 to Sunday 19 May 2019. Since the first Mental Health Awareness Week in 2001, the Mental Health Foundation, has raised awareness of topics like stress, relationships, loneliness, altruism, sleep, alcohol and friendship. This year's theme is Body Image – how we think and feel about our bodies.
Find out how you can support Mental Health Awareness Week here:
https://www.mentalhealth.org.uk