Last updated on May 22nd, 2022 at 06:33 PM
Kids' inactivity remains a challenge for parents and teachers but global fitness experts Les Mills and Marvel have joined forces to play youngsters at their own game with the release of a free, five-minute MOVE LIKE THE AVENGERS workout.
The Sport England Active Lives Children and Young People Survey states that enjoyment is the single biggest factor in motivating children to be active: if you can bring in the fun factor, you can build healthy habits for life.
Meanwhile, the ukactive Generation Inactive 2 Report shows younger children cite 'computer games' as a big barrier to them being physically active and also includes Ofcom figures showing children aged five to 15 spend nearly two hours a day online during the week and nearly three hours a day at the weekend.
Clearly, the best way to get kids up and moving is to create a fun, physical activity concept that combines the things they love – iPads, super heroes and video action.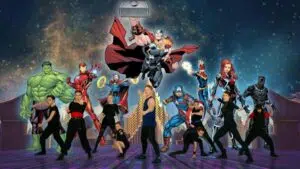 Cue MOVE LIKE THE AVENGERS, a free five-minute online workout for children aged eight to 12 that features Marvel characters Thor and Black Widow leading a choreographed exercise routine.
The product of a partnership between global fitness experts Les Mills – creators of the ground-breaking BORN TO MOVE™ children's workouts – and Marvel, MOVE LIKE THE AVENGERS coincides with the release of the Marvel Studios' Avengers: Endgame – which opens in cinemas from April 26, 2019.
An action-packed combat workout combining live action with music and animated Marvel graphics, MOVE LIKE THE AVENGERS makes exercise fun with the graphics, actions and animation firing children's imaginations. Better still, the workout is free to view and follow here www.lesmills.com/Avengers.