The Only Way is Essex star Georgia Kousoulou recently opened up about her battle with adult acne, which she admitted made her feel insecure as she felt she was being judged as 'dirty.'
And Georgia isn't alone, with adult acne currently on the rise!
Clinical studies indicate that between 40 and 55 percent of the adult population age 20-40 are diagnosed with low grade, persistent acne and oily skin, with stress being a primary trigger  – which doesn't leave very many of us out in this busy day and age!
But fear not, our experts are on hand with ways that could help improve the appearance of your acne.
Could CBD Oil be the answer?
Many beauty products now include CBD oil (cannabidiol) and there's some evidence to suggest that it may be helpful for acne.
While this may vary from person to person, the main thought behind CBD oil reducing acne, comes down to its ability to adjust how the body creates sebum.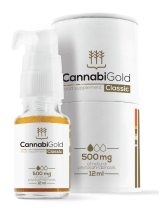 Sebum is a waxy, oily substance the skin makes, which helps protect our skin from our exteriors.
However, when mixed with dead skin cells, dirt or other pollutants it can become trapped inside a pore, which leads to acne.
Nutritionist Fiona Lawson working in association with CannabiGold (www.cannabigold.com) explains, "Research is in its early days, but studies have shown that CannabiGold classic 500MG CBD oil (£29.90, www.bionativa.co.uk) may help to combat the oiliness that contributes to acne.
"It has also been found to have anti-inflammatory and anti-itching properties, which means it could be helpful for people who suffer from eczema.The hemp oil carrier is also beneficial for skin. The essential fatty acids found in the oil are moisturising, and they may even help to prevent the development of fine lines."
Vitamin E for the win!
 As well as painful flare ups, many acne sufferers complain of scarring, which is often caused when cysts or nodules bursts and damage the nearby skin. They can cause just as much emotional discomfort as acne, and lead to psychological stress.
Luckily, skin is a tissue that repairs a lot quicker than others, so many things can be done to improve the appearance of scarring.  Vitamin E is an ingredient in many skin products (especially those which promote anti-ageing) but there's growing research that it can help with reducing acne scars.
Martina Della Vedova, Nutritionist at Natures Plus UK (naturesplus.co.uk ) believes you can reduce scarring through eating vitamin E rich food, such as "almonds, apricot oil, egg yolk, sunflower seeds, wheat germ and hazelnuts."
But for those who need a higher amount, she recommends Nature's Plus vitamin E 400 IU an 10000IU in convenient 1-a-day softgels (www.naturesplus.co.uk) which can be taken whole or applied directly to the skin.
 She says, "Nature's Plus vitamin E is a blend of all tocopherols (beta, gamma and delta) in a easy to swallow soft-gel that prevents the content to be easily oxidized or damaged by light or moisture.
Vitamin E is a fat soluble nutrient so choose oil based products such as Nature's Plus softgels for better absorption. When taken internally vitamin E functions as a potent antioxidant able to rescue cells from free radical damage.
Vitamin E is also essential for vitamin C recharge: the two nutrients work together. Vitamin E also contributes to the protection of cells from oxidative stress. As well as taking it internally the soft-gels can be pierced and applied directly onto the skin."