Last updated on October 21st, 2021 at 10:52 AM
A survey carried out by STA shows that difficulties in recruiting trained swimming teachers are continuing to create widespread problems for many swim schools across the UK – with 62% of swim schools saying this is also majorly impacting on the opportunity for children to learn how to swim.
The 2019 Industry Swimming Teachers Recruitment Survey by STA, found that more than half of UK swim schools, operating in both the public and private sector, have a waiting list for lesson spaces, while 77% said they could not find appropriately qualified swimming teaching staff to meet this demand – swim schools operating in the West Midlands, South East, South, North West, North, London and East Midlands were revealed to be the biggest problem areas for recruitment.
This latest study, designed to understand how widespread of an issue swimming teacher recruitment is in the UK, is being used to monitor and benchmark against similar research that was undertaken by STA in 2015 and then in 2018.
The 2019 research indicates the national recruitment situation is relatively static, no worse or no better than 12 months ago, which gives continual cause for concern and especially where it's impacting on children not being able to access local swimming lessons and learn a vital key lifesaving skill as a result. All areas confirm that it is continuing to have an impact – the highest*, in particular, is the South East, South West, and London.
Kaylë Brightwell, Head of Qualification Development at STA said: "Recruitment continues to a widespread problem and causes many operational issues for swim schools; from them not being able to cope with demand, being forced to cancel swimming lessons and longer waiting lists, which all impacts on their future growth.
While the research shows some pockets of improvement as compared to the 2015 survey, the issue of recruitment and how it's impacting the opportunity for children to learn how to swim remains a major concern – and especially when you consider that fewer and fewer children are actively participating in primary school swimming programmes which are pushing even more demand onto swim schools."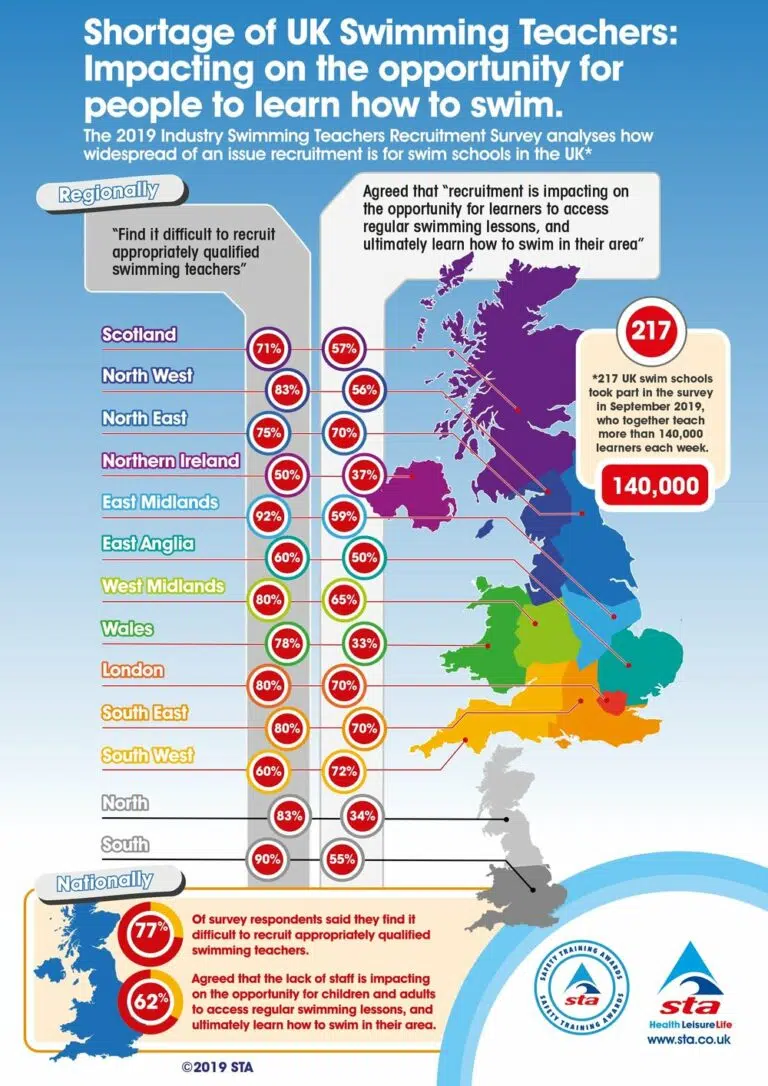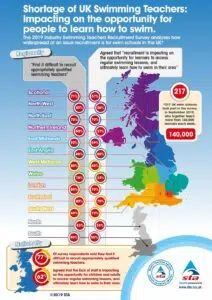 "Unfortunately the issue is also being further compounded in the private sector by the fact that many swim schools already find it difficult to cope with the increased demand for lessons because of pool time availability and a limited number of swimming pools.
Increased swim school competition is also perpetuating the skills shortage – over the last 10-15 years, the number of new private swim schools that have opened has increased exponentially."
"As an industry, we have a big job to do in attracting new people to the industry, which is why we are raising awareness about all the benefits of becoming a professional swimming teacher around World Teachers' Day and the 2019 theme 'Young Teachers: The future of the profession'," added Kaylë.
"It's a profession that offers flexible teaching hours to fit around a person's lifestyle with good rates of pay – great for parents who want a better work/life balance for example and students, as STA's qualifications are internationally recognised so are transferable abroad too.
As the research shows there are countless opportunities for employment as well, with nearly two-thirds of UK swim schools currently looking to recruit qualified teachers and three-quarters prepared to financially invest in professional training for non-qualified candidates."
"Plus there is the incredible job satisfaction you get from teaching an incredible and important life skill," confirmed Kayle.
To find out more about becoming a professional swimming teacher and to find a local course, please visit https://www.sta.co.uk/become-a-swimming-teacher/