Last updated on May 22nd, 2022 at 09:35 PM
BRIT artist Lincoln Townley today announces he has sold out his 'Behind The Mask' collection which is showing at the world famous La Biennale exhibition in Venice.
The London-born artist's biggest show to date was unveiled last month at the prestigious Palazzo Bembo on The Grand Canal.
The collection of thirty abstract figurative oil paintings explored what successful people are willing to put themselves through in order to succeed.
The powerful paintings, some reaching sizes of over 8 feet square, will be on display to the world's art lovers and buyers in Venice from May 14 – November 24 but they have now ALL sold to international buyers in less than a month.
The astonishing 'Sell Out' show at the prestigious location has broken all records for Lincoln with sales far exceeding the £5m expected figure. Lincoln now he has his sights on his autumn show a London's highly respected Saatchi Gallery.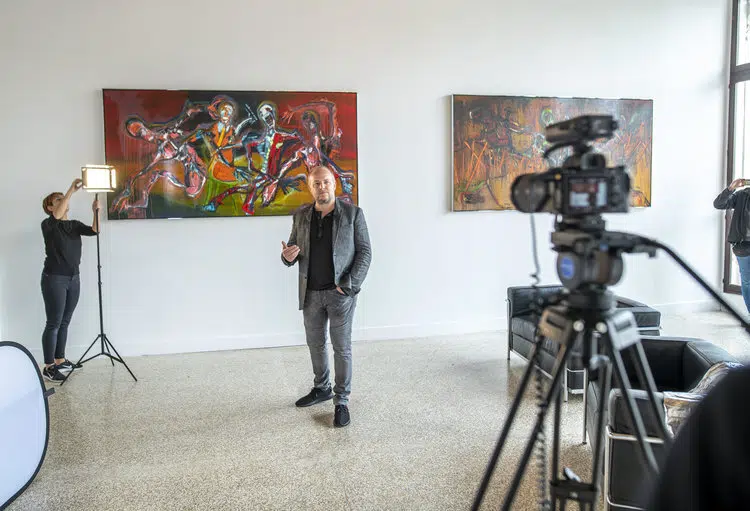 The La Bienale exhibition took eight months in planning and even before the show opened over 80 per cent of the Behind The Mask had already been allocated to international art collectors. The rest quickly followed.
Lincoln Townley said: "When I take part in an art show I see it as a show not a sales opportunity, it helps with the promotion of my brand but not sales directly as I believe great artists sell work between shows. I
had sold 80% of my show at Palazzo Bembo in Venice before we even put the works in a crate to travel to the exhibition.
I connect directly with my clients, I don't lean on my galleries and hope for the best, I make things happen daily.
Art collectors are interested in where an artist has come from and what they are doing now but more importantly they want to know what is next for the artist; therefore I'm more interested in moving onto my next show of works.
Selling out my show at La Biennale means I can now focus on my next move which is showing works in Chelsea's Saatchi Gallery this September.
"My next collection Greed which explores how greed is not just good its great! Directing ones greed in a creative and commercial manner can only deliver exciting results and I want to celebrate this with my new works which even though I'm only just finishing at my London studio we are already marketing and taking orders directly through using WhatsApp and Instagram to connect with buyers directly.
My need for physical galleries is disappearing completely, I promote myself as an artist just as interested in the art of selling equal to the art of creating my collection of works.
I'm interested in success and the adage made famous in the film Wall Street – Greed is good!"
Lincoln Townley said of the Mask collection: "I'm interested in people who take risks and go at life guns blazing.
These characters hardly ever show you what's going on behind the mask yet continue to drain every ounce out of life in their own very unique and robust way.
"They charge forward providing the power to keep their human machine moving towards their own definition of glory. Painting drives thoughts in my mind that wrap around the suggestion that the human race is obsessed with success, fame and fortune.
This pattern is extremely exciting but only a few have the mental and physical platform to pull it off, if someone is not well enough equipped they then take incredible risks to achieve this goal.
"In some of my paintings the figure is achieving, striving and winning but in many the lack of direction and increase in ego will lead to dire circumstances which inevitably lead to pain and suffering; something I see as extremely beautiful when portrayed as a painting.
These people constantly walk a tightrope, in most cases they are bravely or foolishly walking into the unknown.
Personally I hate a risk free life, I see my personal pursuit weighed down with pushing out so hard I'm bound to fail at some things but achieve hugely in others, because by taking risks even when I fail, I learn.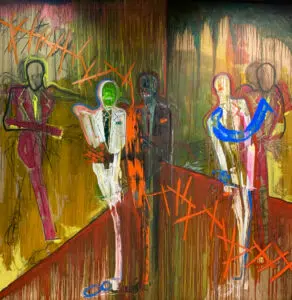 "I often gravitate toward charismatic extroverts, when you look at my work you can see the figures toiling and scheming.
My work is difficult for most to live with but I have an incredible satisfaction of knowing those who thrive in this mad world of personal gain that they immediately see themselves in my work."
Multi-millionaire Townley's dramatic rise to fame in the global art market has seen him grow from six years ago to today where his work sells for in excess of £1million.
Lincoln has been commissioned to paint many of the world's biggest icons including Charlie Sheen, Al Pacino, Sir Michael Caine and his original oil paintings of demons drawn from the unconscious mind, have been exhibited at major international galleries including the National Gallery and the Royal Academy of Arts in London, Los Angeles and the Brisbane Powerhouse.
The portraits of stars Lincoln has painted also include the annual BAFTA honourees, Dame Judi Dench, John Cleese, Kate Moss, Charlie Sheen, Russell Brand, Leonardo Di Caprio, Marlon Brando, Princess Diana, Mohammed Ali, David Bowie, Pele, Ronaldinho and many others.
Lincoln painted Sir Michael Caine and his wife Shakira, after presenting him the painting the legendary actor said: "There's no doubt in my opinion that Lincoln is the next Andy Warhol."
Two years ago Lincoln sold a diamond encrusted portrait of the late Princess Diana for a personal record-breaking £1million, beating his previous record of £510,000 set by his painting of Mohammed Ali. The Princess Diana painting, a huge two metre square oil and acrylic spray on linen, had over £100,000 worth of diamonds embedded into the canvas to give a spectacular finish.
Townley sold one of his major 'Hell' works using the cryptocurrency Bitcoin for over half a million pounds will use the Venice exhibition to unveil his Behind The Mask collection, valued at over £5million.
The global launch at La Biennale of 25 number works of art depict man's desires and the need to succeed. The collection shows graphically the layers of our lives controlled by the use of oil paint and charcoal on paper.
The self taught artist has struggled against an established art market and is now collected across the world including America, Australia, the Middle East and Europe.
The Venice Biennale has been established for over 120 years and is one of the most prestigious cultural institutions in the world. Established in 1895, the Biennale has an attendance of over 500,000 visitors at the Art Exhibition every year.
The history of the La Biennale di Venezia dates back from 1895, when the first International Art Exhibition was organised. In the 1930s new festivals were born: Music, Cinema, and Theatre (the Venice Film Festival in 1932 was the first film festival in history).
In 1980 the first International Architecture Exhibition took place and in 1999 Dance made its debut at La Biennale.
La Biennale has hosted collections over the years including many British artists such as Henry Moore, Francis Bacon, Lucian Freud, Richard Hamilton, Gilbert & George, Anish Kapoor, Damien Hirst, Tracey Erin, Sarah Lucas and Steve McQueen.
The internationally successful artist has also been chosen for the fourth year to paint the BAFTA honourees.
The British Academy of Film and Television Arts honourees included Kenneth Branagh, Matt Damon, Ava DuVernay, Claire Foy, film legend Dick Van Dyke, Jodie Foster, Ricky Gervais, Samuel L. Jackson, Felicity Jones, Ang Lee, and Ewan McGregor.
The previous year he painted Orlando Bloom, James Corden, Harrison Ford, Sam Mendes, Amy Schumer and Meryl Streep.
James Nicholls, Managing Director and Curator of the Maddox Gallery, Mayfair, London, where Lincoln exhibits said: "In each generation it is a rare occurrence when an artist has the potential to become iconic, and it is our considered opinion that Lincoln Townley is such an extraordinary artist.
The British artist was relatively unknown four years ago, now he has become famous for creating the most vivid insight into producing electrifying portraits of Hollywood stars such as; Al Pacino, Dame Judi Dench, Gary Oldman, Sir John Hurt, Robert Downey Jr. Judi Dench, Russell Brand and Charlie Sheen.
"Sir Michael Caine recently described him as the new Andy Warhol, and others see a Francis Bacon-like quality in his work.
The value of his work has risen 200% in the last two years alone."