By David Saunders, Health Editor  | UPDATED: 11:28, 01 April 2020
If the Championships at Wimbledon this year grabbed your attention then this will certainly be of interest to you as, Judy Murray, former Great Britain Federation Cup Captain and mother of Grand Slam champions Andy and Jamie, has announced that she will be returning to The Campus, Europe's newest five-star multi-sport and wellness hub at Quinta do Lago in the Algarve in Portugal, for her third in a series of adult and junior coaching camps.
Judy will join a team of coaches for fun and action-packed coaching camps, hosting a five-day junior tennis camp from the 19th – 23rd August and also a three-day adult tennis from 21st – 23rd August 2019
The camps will focus on grass-roots coaching and development, making tennis fun for juniors of all abilities and learning skills from one of the most respected tennis coaches and 'mums' in the game.  Judy will encourage youngsters to get active in the magnificent surrounds of The Campus, Europe's newest multi-sport and wellness hub.
Judy will offer a unique tennis coaching experience for juniors and adults who will benefit enormously from her many years of years of coaching at all levels of the game and which took her sons to No.1 in the world!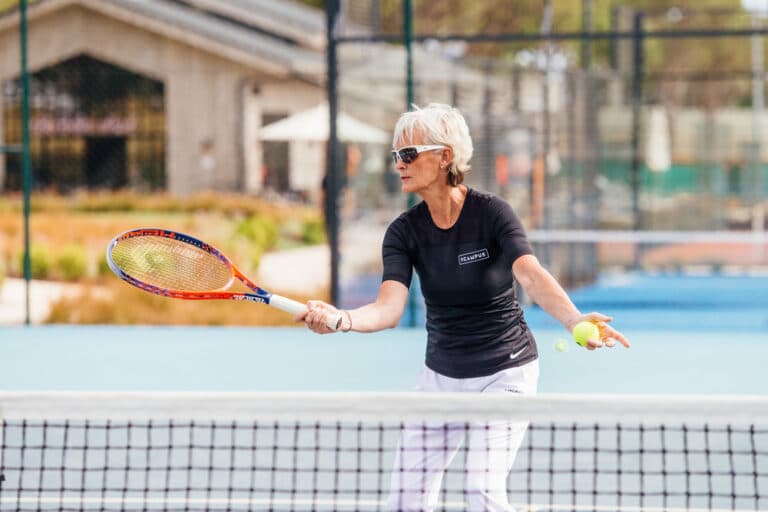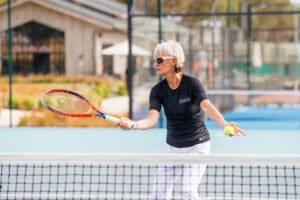 Judy says: "The camps are full of the exercises and games that I played with Jamie and Andy when they were growing up. We focus on three things:  skill-building activities, tennis specific movement training and creating fun competition. Tennis is a "hit, move and think sport" so the camps aim to help players of all levels to do those three things at the same time…..while having a whole lot of fun! "
Sean Moriarty, Chief Executive of Quinta do Lago, says "coaching opportunities like these is what makes The Campus stand out amongst sporting venues across Europe."
"It's great to have icon Judy Murray back to The Campus for more fun and engaging junior and adult tennis camps. Judy is one of the most respected figures in tennis and she adds to the list of incredible sports ambassadors we now have at The Campus."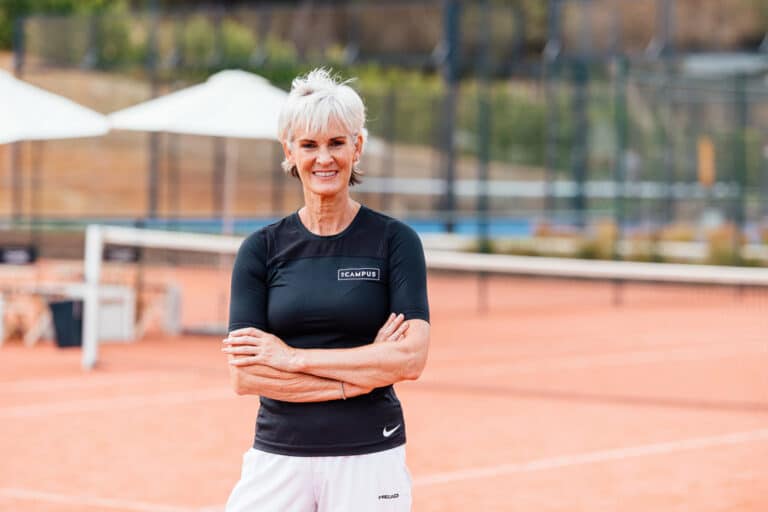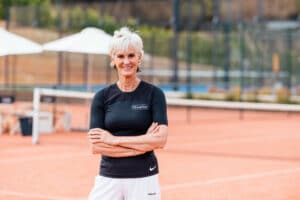 Judy Murray is the latest addition of high-profile stellar sports stars adding to a world class level of sports coaching and mentoring who are now partnering with The Campus.
Former England and Manchester United football legend Rio Ferdinand is also set to return for more coaching camps after his successful series of camps last year, and also Irish rugby player Brian O'Driscoll is set to continue his partnership as well.
Head Tennis Professional at The Campus, Zé Lopes, adds:
"We're thrilled to be working with Judy Murray once again after the great success of her recent Easter camp in April. It's a fantastic opportunity to learn the coaching techniques she uses and she is such a great motivator to players, parents and coaches." 
The Campus is one of Europe's newest state of the art multi-sports venues, created for elite athletes, teams and for families as well. The Campus is already becoming popular with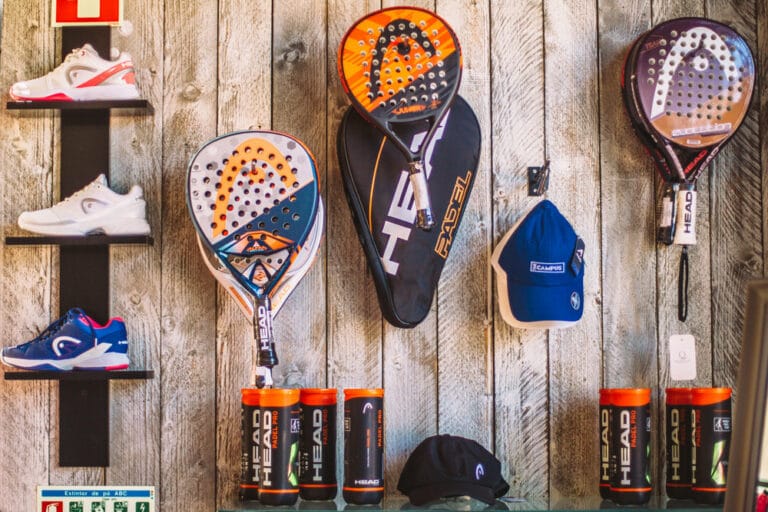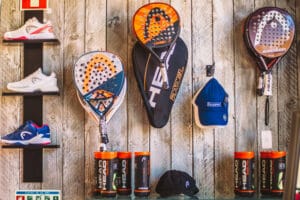 Premiership football and rugby teams, Olympic and Para-Olympic squads, performance athletes and coaches who are taking advantage of the perfect training climate and using The Campus as their warm-weather training base.
The recently opened High Performance Campus has added to The Campus' stellar reputation and cemented its reputation as the outstanding location for holiday makers looking for the ultimate sporting break, with dance classes, yoga, swimming and state-of-the-art saunas, steam rooms and wellness areas adding to the appeal.
Top Premier League clubs, the Ireland rugby team and Olympic athletes have trained at The Campus in the last year, with high profile teams and athletes set to use the High Performance Campus and wellness facilities that are of the highest caliber.
"The Campus further elevates Quinta do Lago as one of the finest sports and leisure destinations in the world. The beauty of this complex is you don't have to be a world-class or even professional athlete, as we also cater for guests who simply want to use the facilities at their leisure for fitness or as a hobby." added Sean.
JUDY MURRAY SUMMER TENNIS CAMPS 
BOOKING CAMPS 
Judy Murray was born on 8 September 1959 in Bridge of Allan, Stirlingshire, the daughter of Eileen Shirley and Roy Erskine, an optician and former footballer who had played for Stirling Albion in the 1950s.
She says that growing up, there were no indoor tennis courts in Scotland, so she played tennis in the summer and badminton in the winter. She won 64 titles in Scotland during her junior and senior career, and decided to have a go at the professional tour in around 1976.
Murray gave up the idea of competing professionally as she was homesick and was robbed in Barcelona. However, she had played against players such as Debbie Jevans and Mariana Simionescu. Murray claims that her playing style did not have any big shots but she was quick around the court and read the game well.
She decided to go to the University of Edinburgh to study French and German, before dropping German in favor of business studies. In 1981, she graduated from the University of Edinburgh, and represented Great Britain at the World Student Games.
She began coaching and was the initial coach for both her sons before handing over the reins as their professional careers bloomed. In the early 1980s, Murray lived in the West End of Glasgow and was a member of Broomhill Lawn Tennis and Squash club, winning the Club Championships three times and playing for its teams (under her maiden name). She remains a visitor to the club.
Aside from her own sons, she has coached many players at regional and national level under the auspices of the British tennis governing body, the Lawn Tennis Association (LTA).
In December 2011 she was elected to lead the British Fed Cup team as their captain. She says she took the job in part to raise the profile of female coaches and alleviate some of the sexism that she says remains in the sport. She resigned as Great Britain's Fed Cup Captain in March 2016.
Murray was appointed Officer of the Order of the British Empire (OBE) in the 2017 Birthday Honours for services to tennis, women in sport, and charity.
Murray was awarded an Honorary Doctorate by the University of Edinburgh on 8 October 2013. On 22 November 2013 Murray received an honorary doctorate from the University of Stirling. She received three honorary degrees in 2016, one from the University of Aberdeen another from the University of Glasgow, and a third from Abertay University for her "outstanding contribution to British sport."
Judy has developed several tennis initiatives including Miss-Hits, a starter programme for girls age 5 to 8, Tennis on the Road, which takes tennis into remote and deprived parts of Scotland, and, most recently, She Rallies, a programme with the LTA, to encourage more women and girls into tennis across the UK.
JUDY MURRAY FOUNDATION 
MF takes tennis into rural and disadvantaged areas of Scotland. She builds workforces within local communities to make tennis fun and 'dobale'. Tennis for Everyone.
Instagram – www.instagram.com/judymurrayfdn/
All visitors to The Campus will experience world class tennis and padel courts, a wonderful cycling center led by Paralympic gold medalist Mark Rohan, as well as a top class swimming facility and a wellness section of the High Performance Centre that offers all visitors the ideal chance to unwind after an exhausting workout.
Guests can also stay at the magnificent The Magnolia Hotel, situated on the doorstep of The Campus and Quinta do Lago resort. It has a range of accommodation including 74 comfortable rooms, three suites and seven cottages.  The rooms have been recently been fully refurbished and the five-star service will help guests unwind and destress at the end of their day. There is a free shuttle bus service to The Campus for all guests.
ABOUT THE MAGNOLIA HOTEL 
Guests can stay at The Magnolia Hotel, situated on the doorstep of The Campus and Quinta do Lago resort. It has a range of accommodation including 74 luxury rooms, three suites and seven cottages.
The rooms have been recently been fully refurbished and the five-star service will help guests unwind and destress at the end of their day.
The Magnolia Hotel offers a beautiful heated outdoor pool and the pool area is at the heart of the hotel. Guests can also visit the spa and holistic rooms and reconnect with mind and body. A team of expert therapists are on-hand to soothe away any tired and achy knots.
For guests that are feeling energetic and in need of a good stretch then there is a fully equipped gym with premium quality equipment. The experienced personal trainers are available to help guests work out. There's a shuttle bus service to The Campus for all guests too.
ABOUT QUINTA DO LAGO
Synonymous with elegance and privacy, Quinta do Lago is an exclusive golf and residential estate of nearly 2,0
00 acres bordering the Atlantic Ocean and nestled within the privacy and security of the Ria Formosa nature reserve.
Quinta do Lago is one of the most desired resorts in Europe and allows you to live an active outdoor lifestyle all year round, offering real estate plots between deserted dunes, sheltered pines, breath-taking beaches surrounded by three award-winning golf courses.
Since its inception, Quinta do Lago has been at the forefront of European golf with three award-winning championship courses matched by outstanding practice facilities including Europe's only Paul McGinley Golf Academy and the only Taylor Made Performance Center in Southern Europe.
Among its recent accolades, the resort was voted 'Europe's Best Golf Venue' at the 2015 and 2016 World Golf Awards. Quinta do Lago has enjoyed the honor of hosting eight Portuguese Opens as well as numerous other international golf tournaments and its world-class golf facilities are some of the best anywhere in the world.
Away from the fairways, Quinta do Lago now adds to its portfolio extensive state-of-the art leisure and racquets facilities guaranteed to keep families occupied with regular tennis and padel tennis events,  cycling tours of the West Coast, family bike trips, a wide range of water, beach and lake sports as well as cultural and nature trips.
The resort's stunning location by the beach offers the perfect place to relax and unwind while its wide array of restaurants, both formal and informal, take advantage of the fresh Mediterranean produce that the resort has become famous for.
More information