Last updated on May 22nd, 2022 at 06:18 PM
In the first ever celebrity series of SAS: Who Dares Wins, 12 well known faces are embarking on one of the toughest tests of their lives, to raise money for Stand Up to Cancer.
They'll be living and surviving together in an unforgiving ex-military base, high in the Chilean Andes.
We caught up with celebrity recruit Wayne Bridge to find out how he fared.
What made you sign up to be beasted by Ant Middleton and the rest of the DS staff?
Firstly, I like to push myself, I like to challenge myself. I liked to think I was going to learn something and get something out of the experience. Plus, I've always watched the show, and I've always loved it, so it was a no-brainer for me.
So having been a fan of the show you knew what you were letting yourself into?
Well, kind of! It's tough, very tough! When you watch it you can see it's very tough, but I'd probably say it's actually harder being there. I think watching it on the TV doesn't justify how tough it actually is.
The show is part of Channel 4's Stand Up To Cancer, was the charity aspect of the show important to you?
Yes, absolutely. It's such a great cause. I'm a huge fan of the show so would have done it regardless, but doing it for such a good cause was an added bonus.
It's really nice that I can use my position to raise awareness. I get emotional watching Stand Up To Cancer and you see all the things that people go through. So I feel really privileged to be able to go and do something to help.
Did you know any of the other celebs on the show before?
I had met Camilla before because she'd done boxing for Sport Relief and I'd met Ben Foden before. It was good to see a friendly face, to be honest.
I got quite nervous, you get to the airport, you get a flight out and you have no idea what's going to happen, so to see a friendly face was quite nice.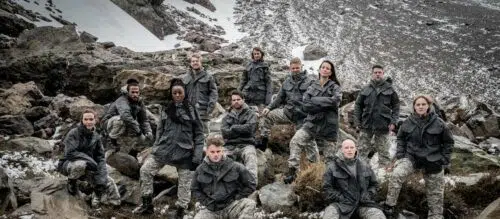 Who would you say you bonded with the most?
I got on really well with everyone, to be honest. I loved Sam, I thought he was really entertaining and I got on really well with Victoria Pendleton as well.
She's obviously achieved so much in her career, so being there with her was a great experience. I was lucky with the bunch of people that we had and we had moments when we needed each other as well both physically and mentally.
There's physical support when you want to gee people up and try and push them and mentally as well to be honest. There's one thing you don't want to do and that is see people quit.
I remember us all getting punished because Sam gave the DS some backchat and at one point we thought he was going to quit, but we were all shouting at him, "Don't do it." It was great that we had each other's backs in that way.
There are so many sports stars in the line-up, did that make you competitive?
I'm definitely competitive, that's for sure and it does spark something in you being around them again. But in this situation, you have to help each other through it, you definitely need each other.
Competitiveness always comes out, that's natural, I don't like to be beaten. I like to always complete the task that's put in front of me.
How did you feel on the first day when they made you fall backward into a lake from a helicopter?
I was just completely nervous, to be honest. Obviously, I've seen the show before and seen the backward dive that they've done in previous series'.
It's always been the one thing I've said I'd be nervous of doing. If you'd have asked me before I'd have said I wouldn't do it, but in the moment I knew that I would push myself.
Then I saw the helicopter come out, honestly my stomach started turning over! I couldn't believe that they were making us do that on the first day. It's one of those moments where you close your eyes and hope for the best that you do it right!
You've played some games in your football career, how did the nerves of this compare to your playing days?
It's the unexpected, I think. You don't know what's coming next. I think, for me, when I'm in a footballing situation I'm okay because I've got so many things to focus on and I know what's coming and I just try and get it done.
But with this it's totally unexpected, you never know what they are going to throw at you next, it makes my brain think so much, it makes you worry. You get nervous about what's coming next. It's not the nicest of feelings, especially if you're outside your comfort zone.
Is it that fear of the unknown which made you the most nervous?
No, it's probably fear of not being able to do it, to be honest. I've got a little bit of a fear of failure when I do things. I don't like to fail and don't like to let people down. That was probably my biggest fear, not being able to do it. I think probably a lot of the people were the same.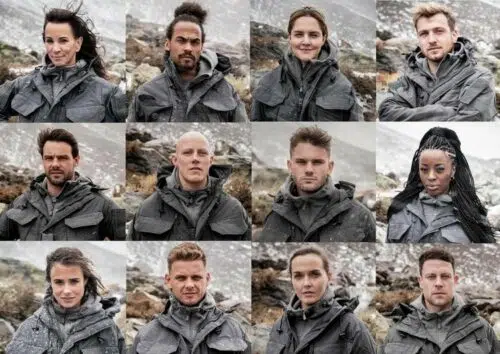 Ant always talks about the physical and the mental side of the person taking part in the show, how would you describe your physical and mental health going into this?
I'd probably say physically, I try and keep myself fit. I enjoy boxing, it's a good release. I do that to push myself physically. I think I always knew going into the show that it was going to be mentally tougher for me.
When I'm in a situation where I'm working physically, I think I can push myself mentally. I'll never quit. But I think mentally, I probably suffer a little bit with self-confidence and stuff like that.
I'm probably not very vocal and I'm not much of a leader. I hoped going into the show I'd get something out of it and that it would give me a bit more self-confidence and a bit more belief in myself.
How did you find it when you've got Ant and the DS staff screaming in your face and swearing?
Weirdly I enjoyed it! It's one of those things where I have so much respect for anyone that's been in the military.
I have been really lucky in my life, for what I have done but I feel really privileged to be with them and share just a snippet of what they've done in their careers. I'm blessed to have that chance.
Sam really struggled with their authority and tried to give them a bit of back-chat, but for me I came up through the ranks in football, when you're a young player you quickly learn to keep your mouth shut and respect the first team players.
You have to earn a bit of respect as well. You just had to do as you were told, so I think that put me in a good place with what to expect with the DS staff.
They didn't go easy on you, did they?
Definitely not! I think they were too eager to give us hell! Going into that show I knew what it was going to be like.
I knew it wasn't going to be one of those shows where you go on, the camera gets cut and everyone talks to each other nicey-nice. You know you're going to get the proper treatment everyone usually gets. I knew it was going to be a real test. I wanted to push myself and test myself.
What sort of brutal things did they have you doing?
There was this thing they called murderball, which was basically like a rugby game in a freezing cold mud pit and you had to just take each other out.
That was okay for Heather and Ben who are rugby players, they were in their element. The rest of us literally thought it was just for the DS' entertainment!
This year is the first time the show has allowed women to compete alongside the men, did sex play a part?
It made no odds to me. I think actually some of the girls are tough. They're physically strong, mentally strong. You can be physically strong, but if you're not mentally strong you're not going to cut the grade.
It was a great experience. I loved it. I loved being around men and women. I think they definitely deserved to be there.
Did you cry?
Yes and I'm not ashamed to say that. There's nothing wrong with crying and letting it out, sometimes it is the best way. I think it's one thing I probably learnt during this experience.
I keep a lot of my emotions bottled up. I'd like to think that now I am more open with Frankie about my feelings, I'm not afraid to show that side of me, that's something I've taken from the show.
Did you pick up any injuries?
Nothing major but on the second day my feet kept cramping up, which was so painful. I think every day I was literally rubbing my legs in deep heat and massaging them.
There was one time they came for us in the middle of the night and I was struggling so much with my legs I couldn't get my boots on!
Celebrity SAS: Who Dares Wins for Stand up To Cancer begins Sunday 7th April at 9pm.