Last updated on December 30th, 2021 at 02:20 PM
With the New Year being just around the corner, it means that many of us will be looking to try and improve our diets after enjoying the festive period – who can blame you after the year we've just had?
Healthy treats keep your body fuller for longer, let you consume a more balanced diet but most of all – taste amazing!
We've compiled a list of five healthy snacks that Protein Package and Sustain Health recommend trying in the New Year.
The Criteria
To whittle down the list to just five products, we took into account the following criteria:
Nutrition – These products have to be good for your body and general health. We expect these snacks to be lower in calories than normal treats, be higher in protein and have fewer sugars or saturates.
Taste/Texture – Even the most healthy person in the world doesn't want to be eating things that have the taste and texture of corrugated cardboard (not that I've actually tried it myself).
Convenience – You'll be taking them on the go so they need to easily fit into your coat pocket or gym bag.
Reviews – Authentic feedback that's positive is always one of the best places to decide if the product is worthy of our list.
Price Guide
£ = Under £1.00
££ = Under £2.00
£££ = Above £3.00
1. Grenade Carb Killa Protein Bars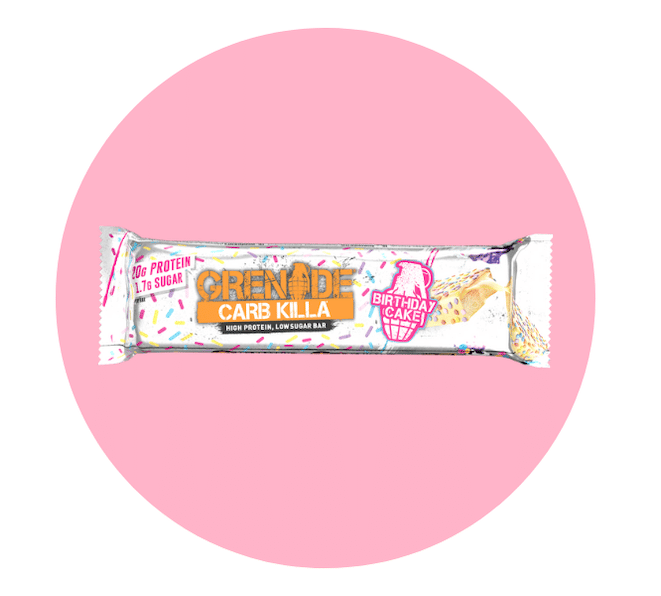 Product Type: Protein Bar
Brand: Grenade
Calories: 219 Calories
Protein: 20 Grams
Carbs: 20 Grams
Sugars: 1.4 Grams
Saturated Fats: 5.5 Grams
Average Rating: 4.9/5 Stars
Price Guide: ££
It's hard to argue with the number one spot on the list with the Carb Killa Protein Bars by Grenade coming ahead of the competition when it comes to healthy snacking.
Founded in 2009, they've been the number one bestselling protein bar in the UK since 2016 and sell a bar every two seconds according to their official website.
Super compact and easy to fit in your pocket or gym bag, each 60-gram bar holds over 20-grams of premium milk protein blend and are ridiculously low in sugars (usually around 1.5-grams) which for a product that tastes as good as they do, is quite unbelievable.
Currently available in 13 standard year-round flavours from Peanut Nutter to Cookie Dough, the Grenade Bars even get seasonal flavours such as Festive Gingerbread and Summer Strawberries that are released for a limited time.
As a Protein Package tip, try putting your Carb Killa's in the microwave for between 15-20 seconds to lightly melt the chocolate for a more cake-like dessert experience.
2. The Curators Protein Puff Scratchings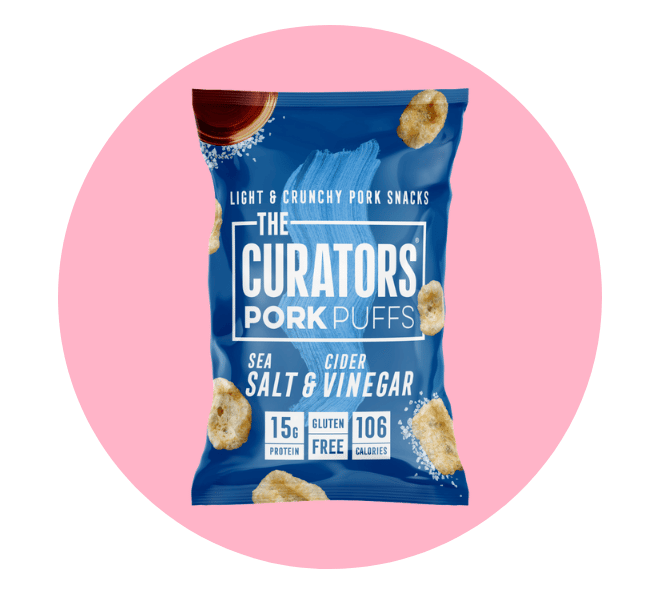 Product Type: Protein Pork Scratchings
Brand: The Curators
Calories: 118 Calories
Protein: 15.5 Grams
Carbs: 0 Grams
Sugars: 0 Gram
Saturated Fats: 2.2 Grams
Average Rating: 4.6/5 Stars
Price Guide: £
Taking pub snacks and giving them a healthy makeover, The Curators was started by best mates Max and Ed in 2017.
Lower in saturated fats and with reduced salt content, their Scratching Puffs come in four tasty flavours which are all gluten-free. A whole bag is just 118 calories and holds over 15.5-grams of quality protein content.
Due to the recent success of their Pork Scratchings, The Curators have actually started to expand into other snacking products like Chorizo Sticks, Nut Mixes and Beef Biltong.
The only negative aspect about these tasty snacks is the size of the packets for convenience, they easily fit into a bag but can be a little awkward if you're out and about without one.
3. Fulfil Nutrition Vitamin & Protein Bars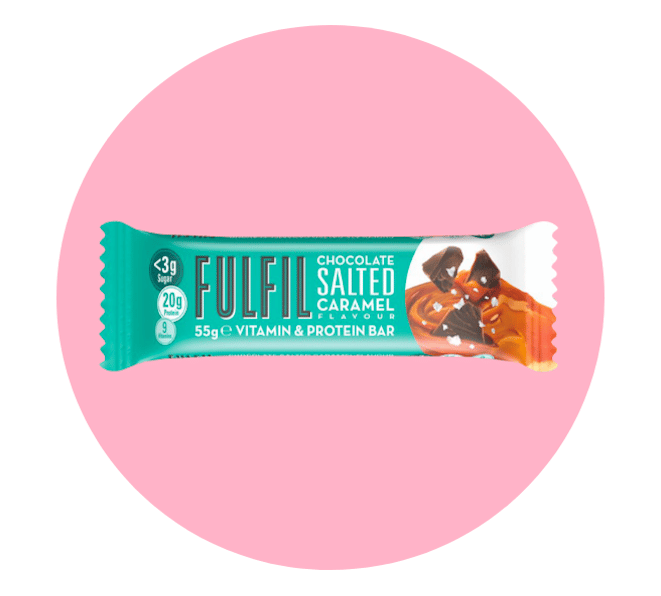 Product Type: Protein Bar
Brand: Fulfil Nutrition
Calories: 197 Calories
Protein: 20 Grams
Carbs: 16 Grams
Sugars: 1.5 Grams
Saturated Fats: 4.5 Grams
Average Rating: 4.5/5 Stars
Price Guide: ££
Few protein bars can boast about a top-tier vitamin profile but Fulfil Nutrition can. Produced in Ireland, Fulfil really give Grenade a run for their money and have been popping up in supermarkets, supplement stores and gyms around the UK over the past couple of years.
Having slightly fewer calories per bar than Carb Killa's, Fulfil Protein Bars come with a similar protein, carbohydrate and sugar content but are a little higher in saturated fats which is the reason for them being lower down our top five.
The texture is more like a rocky road than smooth chocolate with rice crispies sprinkled on top. A single 55-gram serving holds nine key vitamins and minerals including vitamin B12, C and E.
4. Nutry Nuts Protein Peanut Butter Cups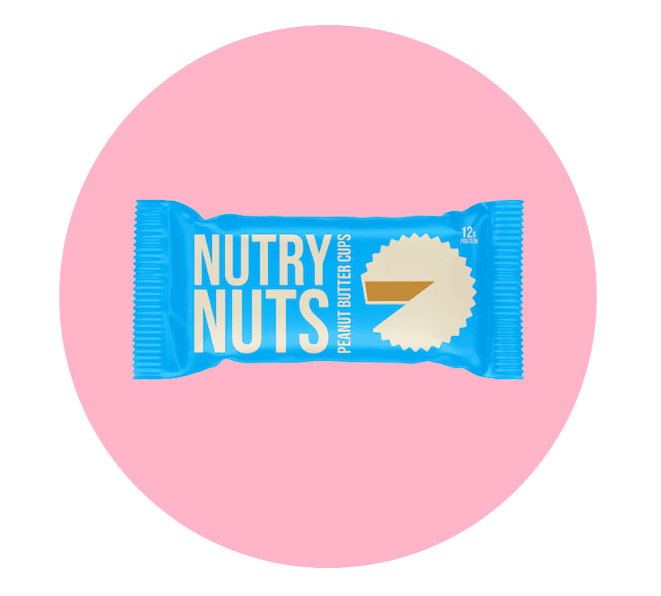 Product Type: Protein Peanut Butter Cups
Brand: Nutry Nuts
Calories: 216 Calories
Protein: 12 Grams
Carbs: 7.9 Grams
Sugars: 6.6 Grams
Saturated Fats: 6.4 Grams
Average Rating: 4.2/5 Stars
Price Guide: £££
Compared to the other brands on the list, Nutry Nuts are a smaller set-up but with big ambitions. Their peanut butter cups are revolutionising the snacking game, as explained on their website, "​​it's been decades since the peanut butter cup has been re-invented.
We've taken on the tasteless, dry, 'healthy' peanut butter cups and re-imagined them, carefully crafting protein peanut butter cups with less sugar than you may have dreamed is possible."
Their cups now come in three mouthwatering coatings: smooth milk chocolate, all-new cream white chocolate and their vegan dark chocolate option.
Now, when it comes to the nutritional profile, they're good but not great. The 12-grams of protein per cup is respectable but they're quite high in carbs, sugars and fats compared to the other items on our list.
You can't complain, they're still much better for you than other peanut cup brands but if you're looking to nail down your macros, the other options might be better for you.
5. Lenny & Larry's Complete Protein Cookies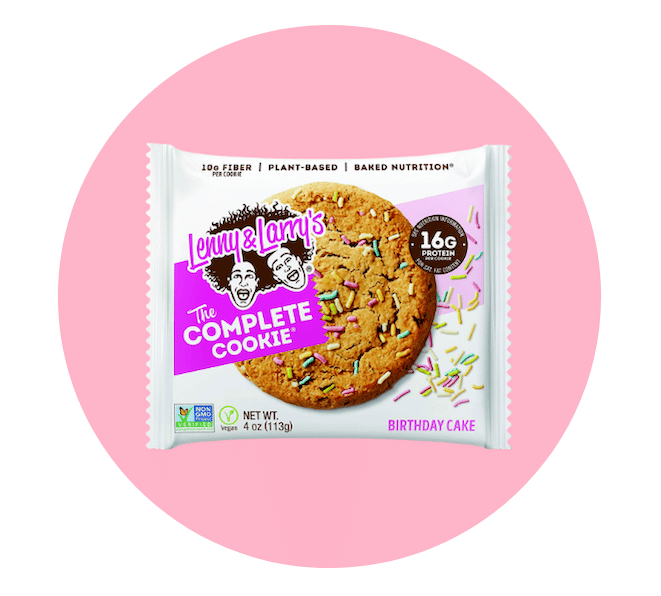 Product Type: Protein Cookie
Brand: Lenny and Larry's
Calories: 200 Calories
Protein: 8 Grams
Carbs: 32 Grams
Sugars: 12 Grams
Saturated Fats: 3 Grams
Average Rating: 4.2/5 Stars
Price Guide: ££
Baked over in the USA, Lenny and Larry's Complete Cookies are all approved for vegans, GMO-free and higher in protein compared to your bog-standard cookie.
Made with natural plant-based ingredients, they're not called the complete cookie for nothing. Great for lean snacking at any time of the day, they're convenient but are on the larger side which is why their recommended serving of the 113-gram cookie is divided in two.
From Chocolate Donut to Birthday Cake, Lenny and Larry's come with various toppings and different flavours to try so you never get bored of the soft-bakes.
Final Words
The five products above are the best well-round indulgent healthy snacks to take on the go with you in the New Year. Even though they're super tasty, it's important to consider that these are snack swaps to replace unhealthy alternatives like chocolate and doughnuts. Consuming whole foods meals should remain key in your day-to-day lifestyle.
Healthy snacks paired with regular exercise and essential news from Sustain Health will have you in a great position to achieve your goals in 2022.