Last updated on April 6th, 2021 at 03:49 PM
Health concerns continue to grow in the UK as the NHS report that 63% of adults were labelled overweight or obese.
As a result, Bankrate.com/uk were eager to discover the healthiest and unhealthiest UK high streets in 2020.
The HealthRate index, analysing the amenities surrounding major UK high streets, awarding each city a score based on the healthy life choices, social interaction and mental wellbeing they promote.
The Unhealthiest High Streets
 Peterborough: -104

 Rotherham: -77

 Swindon: -19

 Slough: -19

 Poole: 4

 Luton: 9

 Blackburn: 15

 Newport: 16

 Huddersfield: 17

 Gateshead: 17
The Healthiest High Streets
York: 471 

Glasgow: 454

London: 379

Oxford: 377

Cardiff: 357

Ipswich: 340

Edinburgh: 324

Bath: 306

Manchester: 305

Leeds: 302
Bankrate revealed that the healthiest high street in the UK can be found in York, with an overall score of 471.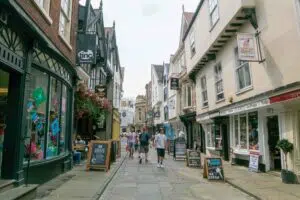 York's high score can be partially attributed to the large number of vegan-friendly restaurants (162) surrounding the high street! They also had well above the national average number of leisure centres – 43 points in total.
The second healthiest high street is located in Glasgow, with 454 points. Glasgow has a large number of gyms surrounding their high street (79!) – in fact, Glasgow's gym score is 4.7 times higher than the national average.
The third healthiest high street in our index is London! With an overall score of 379, they trail far behind the top two healthiest due to a large number of fast food takeaways and pawn brokers; ultimately deducting 481 points.
The unhealthiest high street in the UK is in Peterborough with 104 points.
Peterborough's low score is due to their below average number of gyms and lack of green space near the high street. Peterborough was deducted 150 points for the number of fast food takeaways available to citizens.
In second place is Rotherham's high street, with -77 points in total. Their low ranking is linked to a lack of overall facilities. For example, Bankrate's data shows that there is only one local leisure centre and zero libraries surrounding the high street.
In joint third place is Swindon and Slough. It was discovered that the two cities amassed -19 points overall for their lack of healthy high street facilities.
Where are the facilities?
Most gyms: Glasgow
Most green spaces: Cambridge
Most wellbeing centres: London
Most restaurants suitable for vegans: Leeds
Most leisure centres: Derby
Most libraries: Oxford
Most museums: York
Most GP access: London
Most pubs: Norwich
Most fast-food takeaways: London
Most gambling and betting shops: Glasgow
Most pawn brokers: London
Most vape shops: Glasgow
Does Living in a 'Healthy' Area Add Value to Your Home?
The analysis discovered that the average house price in cities that scored highly in our index was £319,691. At the other end of the scale, the house prices in cities with high streets that scored badly averaged out at £216,200.
We can therefore see a correlation between having an unhealthy high street, and the value of a home. In fact, homes with a healthy high street nearby were valued on average £103,491 more.
https://www.bankrate.com/uk/mortgages/healthiest-uk-highstreets/