By David Saunders, Health Editor | UPDATED: 08:28, 08 July 2020
When it comes to fitness-related New Year's resolutions, the three that tend to top most people's lists are to eat healthier, lose weight and get fitter.
However, sticking to fitness resolutions is far trickier than making them, especially when you find yourself on the sofa every night come February. But the road to fitness doesn't have to be difficult, especially with Samsung Health.
Samsung Health has teamed up with wellness expert, Holly Niemela, and nutrition expert, Gareth Nicholas, to share five ways to get fit in the New Year.
The Samsung Health app puts your health in your hands by tracking activity, stress data, heart rate and sleep, so fitness goals are achievable in the long term. Users can sync a Samsung wearable device, like the Galaxy Watch, to a Samsung smartphone to make tracking easy and access a personalised dashboard of insights based on progress.
To help maintain New Year's resolutions, here's a 5 top fitness tips:
 Get motivated with friends
Sticking to resolutions with a friend not only makes exercising more fun, but it also helps keep you motivated. Challenge friends using Samsung Health; check leader boards, hit milestones, compete to see who can do the most steps, earn rewards and share workout results with just the touch of a button.
Focus on your sleep schedule
Samsung Health reminds you when you're not getting enough rest to help you get on track to a good sleep schedule. When connected to the Galaxy Watch, Samsung Health monitors REM and deep sleep cycles so you can learn about your sleep routine and wake up feeling refreshed. "For a better sleep, take a cool to cold shower before bed, as it helps relax the body. Start off with just 30 seconds and work up gradually to two minutes", says wellness expert Holly Niemela.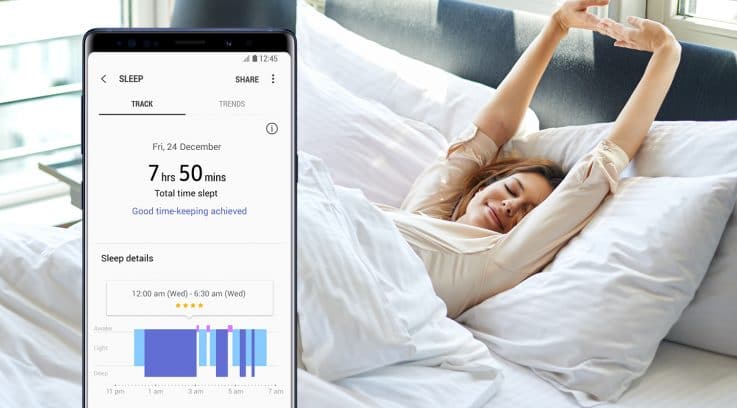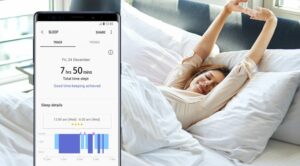 Be more active
Set activity goals and get reminded when you're not doing enough to always stay on top of your game. Choose from a variety of fitness programmes in the Samsung Health app to help keep active, categorised by personal goals and age group. Holly Niemela's top tip for working out is to "be bold, start cold" and try exercising outside. "Your body will heat up very quickly and you'll have a lot more energy, meaning you'll be working harder.
Samsung's Galaxy Watch can help you track your workout and heart rate".
Establish nutrition goals
"Your nutrition regime should be tailored to you, your activity level and any goals you may have" says nutrition expert Gareth Nicholas. Use Bixby Vision to scan food and Samsung Health will calculate the caloric and nourishment value and log the information.
"Healthy doesn't have to be boring – you can be adventurous with your cooking and challenge yourself to try new ingredients or recipes", Nicholas mentions.
See a detailed breakdown of what you consume to make sure you stick to your goals, and view the 'trends' section at the top of the screen to get food intake statistics over time. You can also record meals manually by selecting from an extensive database of foods.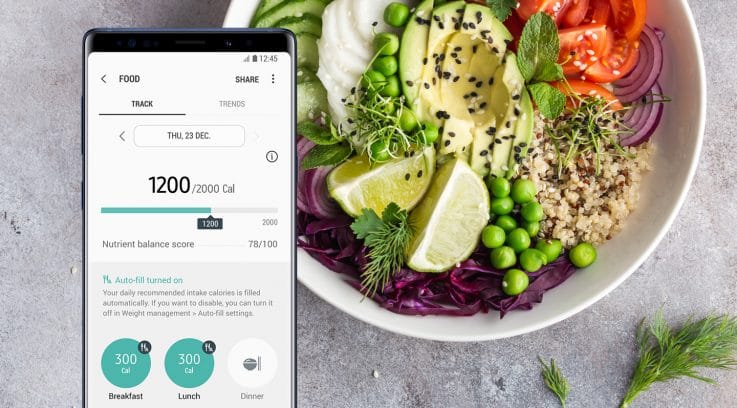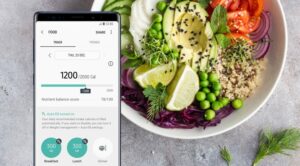 [1] This feature works with Galaxy S9, Galaxy S9+ and Galaxy Note9.
[2] This is only an estimate of the energy content of food, and results may vary. The number of calories actually absorbed by the body can vary. Accuracy of Bixby Vision may differ depending on surrounding conditions.
Be patient
Results don't happen overnight, and long-term results are best achieved through small, gradual changes. If you push yourself too far, too fast, you may find it difficult to maintain new habits and give up too quickly.
If you do run out of steam when it comes to keeping your resolution, don't despair – simply start again. "You can rewire your brain to naturally think positively" says Niemela, "think of someone who makes you smile, hold that positivity for 30 seconds, then practice these mini-positive moments over the day". Before you know it, you'll be back on track and ready to take on your goals.