Last updated on October 4th, 2021 at 07:15 PM
Two Darlington men are planning to undertake the challenge of a lifetime to raise thousands of pounds for charity.
Tom Walker and Michael Bleasby, both 24, will run 260 miles in 10 days in the searing heat of Gambia to support Mind, the Chemotherapy Unit at Darlington Memorial Hospital and various projects in the poverty-stricken African country.
The pair plan to travel to Gambia in early December when the temperature is around 35 – 40 degrees. They will be accompanied by two support vehicles to provide security and medical expertise.
Tom has dedicated his life to the preservation of endangered animals. He runs 'Project Wild Gambia', which works to conserve some of the world's rarest wildlife and, through the development of eco-tourism, assist the people and the economy of Gambia. He has visited the country several times in the past but has no running experience.
Michael, who works for Maxwell Stephens Recruitment in Darlington, will be travelling to Gambia for the first time. As a former middle-distance runner, he has been looking for a challenge that will enable him to use his running ability to raise money and awareness of causes close to his heart.
The cousins are being supported in their endeavour by the Bannatyne health club in Darlington where they are members. They are training regularly at the Haughton Road site, with the club providing a bespoke training program, INBODY measurements monthly and a MYZONE belt to monitor their progress and support their fundraising efforts through social media and events.
Tom said: "I love Gambia and its people, who are always happy and smiling despite having very little.
"Some of the money we raise will go towards schemes that will help the local people and I'm proud that we can make a difference.
"If I'm being honest it is pretty daunting to think of running so far in the heat but, come what may, we are both determined to complete the 260 miles."
Michael added: "Although I am an experienced runner this is definitely out of my comfort zone, and while I am looking forward to the whole experience, I know it will be the toughest thing I have ever done in my life.
"The thought of raising money for three fantastic causes will keep us both going, and I'm assured that we will get a wonderful warm welcome along the way from local villagers.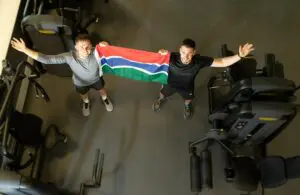 "I'd like to thank Lee and the team at the Bannatyne health club in Darlington for their support, which is invaluable. We couldn't do this without our sponsors."
Lee Miller, regional sales manager at the Bannatyne Group, said: "When I first met Tom and Michael and listened to their passion about the project, I knew this was something that we had to support.
"Their fitness will be a big factor when they are running in the African heat and the team at the Darlington health club will do their very best to make sure they are as prepared as possible."
Further information and to donate – https://www.10in10gambiachallenge.com/
Other sponsors are Maxwell Stephens Recruitment, John Flinn physiotherapy, Up & Running, Auto Skins vehicle styling and Tread 88.