By David Saunders | UPDATED: 05:28, 12 February 2020
BRITS are falling out of love with Valentine's Day because they're sick of romantic clichés, cheesy public displays of affection and pressure to make expensive soppy gestures according to research by leading dating app, happn.
Seven in ten (67%) Brits in relationships claim the annual love-fest is a waste of money, while four in ten (39%) say it's just an excuse for card companies to make money.
A third (34%) say the cost is a turn-off, while a similar number (28%) say their pet-peeve is the social pressure to be romantic on this one day of the year.  Other gripes include people bragging on social media about being showered with gifts and pampering (23%), cheesy marriage proposals (18%), "couples only" deals in bars and restaurants (17%) and public displays of affection (15%). One in ten (12%) hate getting pressure from their partner to be romantic.
Despite the grumbles about the cost and clichés associated with 14th February, the study reveals that romance isn't dead as two-thirds (66%) of men in relationships (and 61% of women) say they enjoy celebrating their relationship on Valentine's Day. A third (31%) of men claim it makes them feel romantic and loved – compared with only 23% of women.  However, a quarter of men (27%) only celebrate to avoid upsetting their partner.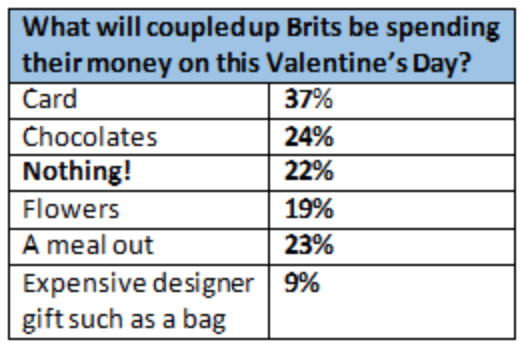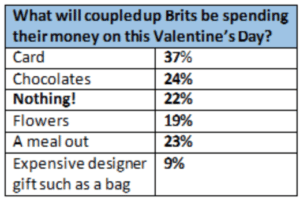 Guys splash the cash and say they need romance too
Whilst men typically bear the brunt of Valentine's Day, 30% of men, and 35% of women think it should be of equal responsibility to create the romance and cover the cost. However, according to the happn study, men typically spend almost twice as much as women on 14th February – £115 compared with £64.
Despite spending less, women are more likely than men to consider the annual love-fest as a rip off (48% vs 38%).  And while one in ten men (11%) say they'd love to receive flowers, they're likely to be waiting a while as 69% of women say they'd never consider giving them.
Despite our differences, when it comes to receiving gifts this Valentine's Day, men and women are equally indifferent when it comes to vetoing Valentine's gifting with 39% of coupled up Brits claiming they don't want to receive anything. One thing the sexes also agree on is that if they do celebrate it, the perfect way to celebrate Valentine's Day is with dinner and drinks (19%).
Seeing through the "showmances"
Nearly a quarter (23%) of men plan to post about their Valentine's Day gift on social media compared with only 13% of women, that's despite a quarter (23%) of Brits believing Valentine's Day social posts are fake and all for show.
Shy singletons keep their crushes under wraps
Although 14th February is traditionally a day for secret admirers to reveal their feelings, it looks like this year, singletons are treating Valentine's Day as just another ordinary day.  Only one in ten plan to send their crush a card (13%) or flowers (8%), while over two-thirds (68%) plan to do nothing at all.    For singletons taking their first steps towards a new relationship, it's men more than women that are most likely to opt to brave a first date on Valentine's Day (43% vs. 28%).
New romantics under pressure
For those in a new relationship, Valentine's Day isn't all a bed of roses.  More than a third (35%) of those seeing someone for under six months claim Valentine's Day puts pressure on the relationship.  We're also more likely to splash out more to keep the love alive in the early days of a relationship –  43% of those in relationship for less than a year say they plan to lavish £101+ on their new partner, compared to an average of £63 forked out by people who've been together more than a decade.
Head of Trends at happn, Marine Ravinet, says, "While the study might make gloomy reading for die-hard romantics, the numbers do suggest that love is important 365 days of the year and people don't want the excuse or pressure to show their feelings on one single day in the calendar.  Societal pressure can leave singletons feeling less self-worth, which is adding to this Valentine's Day backlash.  This year, forget the hearts and flowers, and whether you're with a partner or a hopeful romantic, don't forget to look after the most important love of your life – yourself."