Last updated on July 20th, 2021 at 09:01 AM
DJs Foals & Friendly Fires, Skream, Bondax and Simian Mobile Disco play launch of Big Hug Brewing's Hobo House Taproom – a popup taproom to raise money for rough sleepers.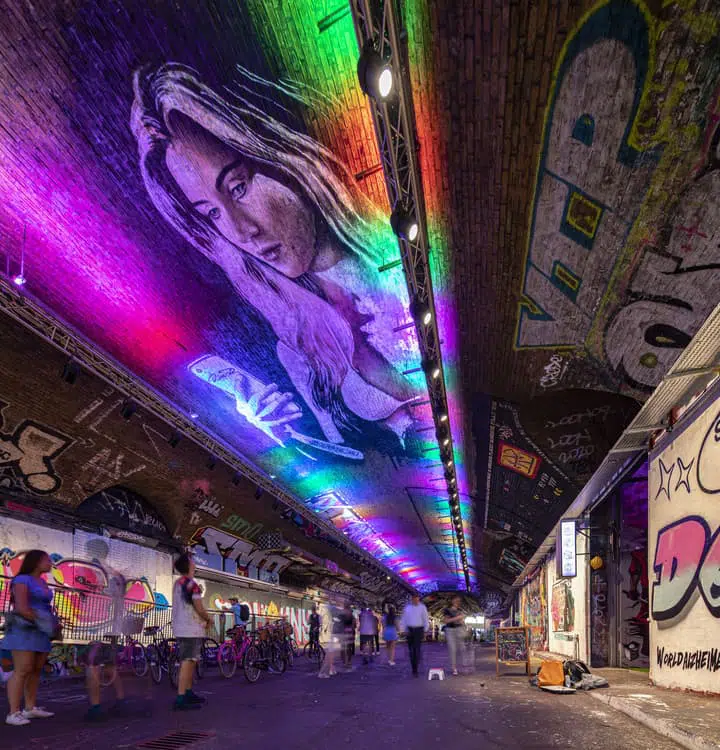 Big Hug Brewing, FMLY Agency and Taps and Tents have come together to launch Hobo House, a pop up tap room that will raise money for rough sleepers and those less fortunate this Christmas.
Hobo House Taproom is happening from Monday 9th December until Thursday 12th December at South London's impressive 26 Leake Street, a venue housed in the cavernous tunnels beneath Waterloo Station.
The event will combine craft beer, street food and the worl'ds best DJs and will raise money for Only A Pavement Away, Sleep Pods Bristol and the Refugee Community Kitchen amongst others.
A selection of beers from breweries with social enterprise or sustainability at their core will be on offer alongside the Big Hug Brewing range.
And also if you are looking for some of the UK's best beer subscriptions you can check out The Dog House.
Indie rock legends Foals and Friendly Fires will perform a special back to back DJ set alongside some of the world's very best DJs including Daniel Avery, Skream, IMOGEN, Simian Mobile Disco, Bondax plus many more, all playing for free.
"Hobo House is our pop up Tap Room and space where people can come together to engage, eat, drink and make a difference along the way.
We want to take over different spaces across the UK and make it our home for a while before moving on.
Each space will be different and what works in one venue, might not work in the next, but one thing they all have in common is that they will allow us to make a difference to individuals and organisations in that local area by supporting chosen charities." Matt Williams -Founder of Big Hug Brewing.
PROGRAMME
Open from 4pm, music from 6pm-Midnight.
Monday 9 December: Daniel Avery, Foals b2b Friendly Fires, IMOGEN, lau.ra (FEMME), Skream, Sophie Lloyd
Tuesday 10 December: Kiwi, Nabihah Iqbal, Simian Mobile Disco
Wednesday 11 December: Bondax, GW Harrison (disco set), Phil Taggart, Suze Rosser
Thursday 12 December: Very special lineup to be announced.
Hobo House Taproom
9-12th December | 4pm-12midnight
26 Leake Street, Waterloo
Free entry. Donations on the door.
CHARITIES
Only A Pavement Away https://onlyapavementaway.co.uk/
Sleep Pods Bristol https://sleeppod.org.uk/
Refugee Community Kitchen https://www.refugeecommunitykitchen.com/
VENUE
26 Leake Street, Waterloo, SE1 7NN
https://www.26leakestreet.com/
BIG HUG BREWING
Not having a brewing premise of their own Big Hug Brewing are 'Hobo' brewers – moving from brewery to brewery to make their beers. They currently brew in London, Sussex and the North. Hobo House will function as a Tap Room with a cause to showcase the Big Hug range of beers along with beers from other brewers that have a social enterprise (think beer made by those with learning difficulties, ex offenders, minority groups) or sustainability (think beer made from bread waste, minimal environmental impact etc) at the heart of their business. Included is Big Hug's Only A Pale Ale Away beer which has been brewed to raise awareness and funds for the Only A Pavement Away (OAPA) homeless charity
ONLY A PAVEMENT AWAY (OAPA)
OAPA was established to help those on the streets, or people who are 'sofa surfing' find employment in the hospitality industry. They create a bridge between employers and organisations which exist to support the homeless, as well as ex offenders and vulnerable veterans. Matt Williams says "we are hoping that we will be able to complete the circle with OAPA and eventually employ some of their members wherever we go with Hobo House"
REFUGEE COMMUNITY KITCHEN
Street food sold at the event will raise money for the Refugee Community Kitchen who support displaced people in Northern France and homeless people in London. Since December 2015, they have served almost 3 million meals to over 45,000 people. Giving people more than just a hot meal they offer a place to gather and connect and somewhere to recreate a community as well as providing a space for medical and legal services, safeguarding groups and other support.
"We are volunteers. We chop. We stir. We serve. We believe food is a human right. Everyone deserves food that we'd be happy to eat at our own tables." Refugee Community Kitchen.
TAPS AND TENTS
Taps and Tents are bar and events specialists for the likes of Glastonbury and Oasis Festival amongst others and will manage the operation of bars and other production elements at Hobo House.
FMLY AGENCY
This Brighton based artist agency has helped put together the world class musical programme and will also be supporting Taps and Tents on event production at Hobo House.