For those of you finding your New Year Resolution(s) slipping away fast, then you need to have a look into investing in the latest book from Mollie Millington, aka the Happiness Personal Trainer,
And if you are the sort of person that has always struggled to maintain a healthy lifestyle, this book breaks it down into very doable challenges with rewarding benefits to keep you on track and motivated.
Mollie has packed some of her most powerful and accessible holistic health and happiness ideas into this new book. "52 Weekend Challenges: Cultivating Health & Happiness" encourages readers to try something new each week encouraging you to enjoy a sense of achievement, surprise and enjoyment.
Cultivating Health & Happiness is to nudge you to try something new, enjoy a little lift as you complete the challenge and introduce some healthy lifestyle hacks into your day-to-day.
But what are the challenges, and will I have time time to do them we hear you ask? Well the truth is the 'challenges' aren't too challenging and you only have to commit to each challenge three days a week and it doesn't even have to be a weekend if mid-week suits you better.
Ranging from trying a new food or recipe to attempting a minute of press-ups or attending a new fitness class, the challenges also include ideas as diverse as de-cluttering a room to inviting friends around to play a board game and testing your own blood pressure to setting SMART goals.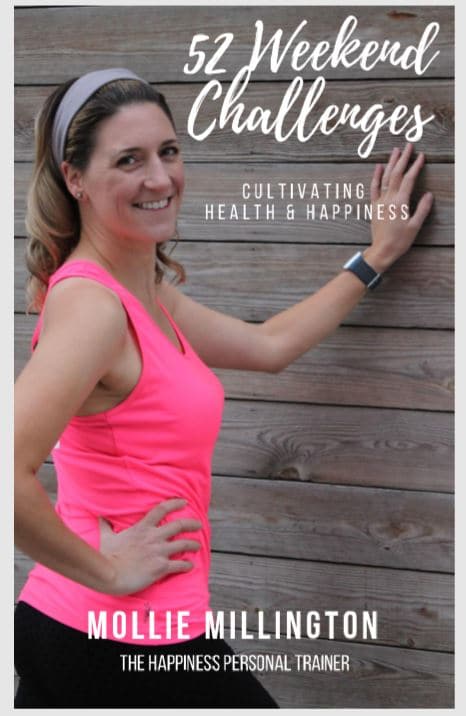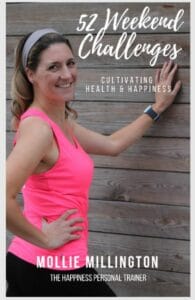 52 Weekend Challenges gives you a little push to try something new and, in some instances, leave your comfort zone for a short while to discover new experiences and connect to the world more mindfully with a healthy, 'can do' approach.
Each challenge is accessible and achievable – giving an immediate sense of achievement (itself a powerful motivator!).
Over time, you will develop self-confidence in your abilities through short challenges, inspiring you to take positive action towards health and happiness the rest of the week.
And what if some of the challenges don't suit your lifestyle? Well Mollie has in fact got a total of 60 challenges in the book to allow people to skip any that don't fit in with them for any reason.
Mollie encourages you to record your experiences each week and asks fans and readers to connect with her over on her social media channels as they take their journey over the course of a year using hashtag #Challenge52
There's also a bonus for you if you find you need a further challenge, Mollie has included five 15-minute "Quickie Workouts" at the end of the book to help people step up their physical activity to complement the other challenges.
For us this is an incredible book for anyone who might want a gentle, fun way to get healthier this year!
Connect with Mollie via Twitter or Instagram at @ptmollie or check in with her Facebook page at www.facebook.com/happinesspt. Join the community of others taking a similar journey by adding #Challenge52 to social media posts and searching for it too.
How to buy
To order the e-book for £9.99 or printed copy for £15.85 at https://www.amazon.co.uk/52-Weekend-Challenges-Cultivating-Happiness-ebook/dp/B07M5NS6Q4
About Mollie
Mollie Millington is known as the Happiness Personal Trainer. Originally from Rochester, NY, USA, she has lived and worked in London since 2011 and holds many qualifications including the USA's AFAA and UK's REPS Level 3 Personal Trainer and Institute for Integrative Nutrition health coach certificate.
Other qualifications include: Group Exercise Instructor, UK Athletics Coach in Running Fitness and REP's Level 3 Exercise Referral. See more at www.ptmollie.com