By David Saunders, Health Editor | UPDATED: 08:28, 26 June 2020
People watched on in amazement last week as Britain's Got Talent magician, Maddox Dixon, performed a series of incredible magic tricks and illusions for unsuspecting members of the London public.
Dixon, stunned onlookers with incredible magic tricks and illusions on London's Bankside to help give Brits feeling the so called 'September Blues' a little lift
People watched on in amazement yesterday as Britain's Got Talent magician, Maddox Dixon, performed a series of incredible magic tricks and illusions for unsuspecting members of the London public.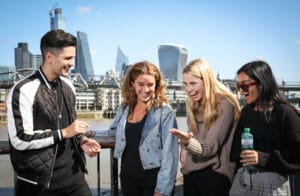 The 32-year-old illusionist had spectators scratching their heads as he pulled out a series of baffling tricks; from audiences' solving a Rubik's Cube with the power of their mind, to their thoughts magically appearing on their mobile phone.
As passers-by tried to figure out the method behind the magic, it was revealed the remarkable series of illusions were performed in light of new research revealing that seven in 10 (69%) SCOTS feel deflated this month.
The seasonal mood shift, dubbed the 'September Blues,' comes as the weather gets colder and the days get shorter.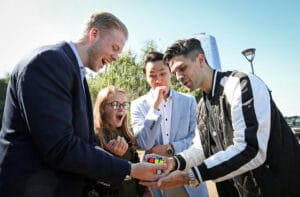 According to the study of 2,000 adults commissioned by Highland Spring, this is leaving two thirds of us in need of a regular pick-me-up.
As well as September itself, not getting enough fresh air (34%) and feeling stressed at work (34%) topped the list of reasons why we SCOTS need a lift throughout the year .
Not getting enough 'me time' (31%) and not drinking enough water (27%) also made the list.
The natural source water brand has enlisted Dixon to help Brits beat the blues this September and beyond, as part of a light-hearted new #Remarkabubble campaign celebrating the 'little lift' sparkling water can provide.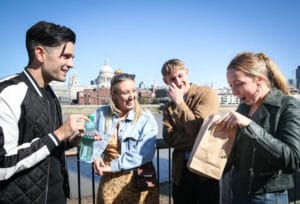 Also joining the campaign is Happiness Doctor, Andy Cope, who has spent 10 years researching positive psychology and has offered his top tips for feeling uplifted all year round.
He says, "It's difficult to feel upbeat if you're not feeling your best. Whether it is because we are having a busy hour, day or month – we experience periods where it may feel like we are running on empty.
"Small habit changes are like compound interest. They add up. Eat, drink, move and sleep are 4 'compounding habits' that you can implement into your routine, whatever the time of year. If you get this right, they pay back with interest."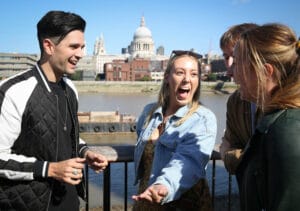 Carol Saunders, Head of Marketing at Highland Spring Group, added: "We hope that our series of fun new magical illusions with Maddox give people everywhere a little lift, just like our sparkling water. After all, something a bit out of the ordinary and a touch more special can brighten the everyday and put a smile on our faces."
Magician mastermind and man behind the magic, Maddox Dixon, added: "A little lift is such an important part of everyday and it was great fun to put some magic into people's daily journeys.
"Hopefully we'll encourage everyone to take a moment to enjoy some bubbles and feel a bit more refreshed as a result – that's when the real magic happens."
Dixon found fame on Britain's Got Talent in 2018, leaving judges Simon Cowell and Amanda Holden spellbound in the semi-finals.
Making the move from music to magic, the Buckinghamshire native got his big break thanks to Coldplay's Chris Martin.
Playing keyboard for British band Foxes, who were supporting Coldplay on a US tour in 2016, he was spotted by the Fix You singer who offered him the chance of a lifetime to open for the band and perform his illusions to thousands.