By David Saunders, Health Editor | UPDATED: 08:28, 08 July 2020
A SKETCH by successful Brit artist Lincoln Townley he did while enjoying a bowl of noodles at wagamama is set to raise thousands of pounds for mental health charity Mind.
The millionaire artist, known for painting the rich and famous and is a favourite of actor Sir Michael Caine, was discussing the sale of one of his collection with a collector at the restaurant's Noodle Lab in Soho, London.
Earlier this year the artist sold one of his collection for a million pounds and is currently putting the finishing touches to his biggest exhibition to date at the world famous La Bienale in Venice in May.
Sitting in wagamama he noticed a paper place mat which was entitled Open Mouths, Open minds, mindful colouring sheets in recognition of their association with the mental health charity Mind. It read, 'pick up a pencil and share whats on your mind' and because his actress wife Denise Welch is an ambassador of Mind he did just that.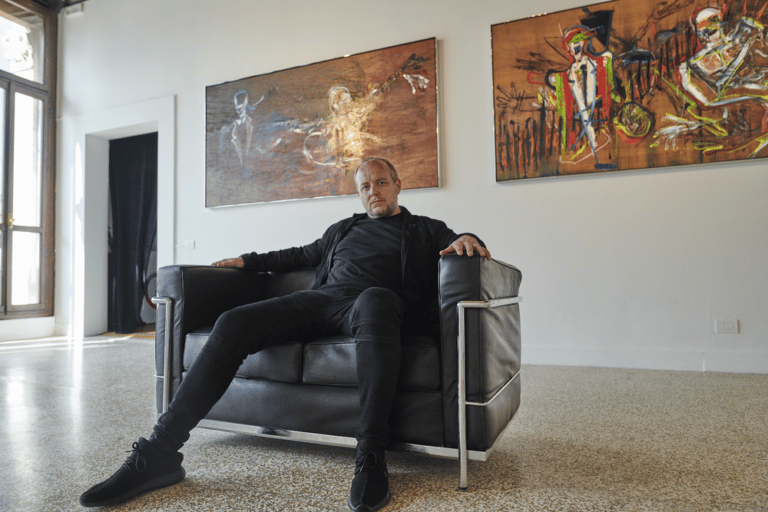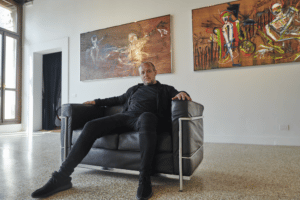 The collector who was sat with him was so impressed he offered to buy it rather than leaving it to be thrown away by the restaurant waiter. Instead Lincoln kept it, signed the work and offered it to wagamama to be auctioned to raise as much money as possible for Mind. Lincoln's sketches can sell for as much as £20,000 and the image he created shows a screaming, tortured face.
Townley's career has exploded and in just seven years he is a multi-millionaire having exhibited at the Royal Academy and two shows at The Saatchi Gallery London. In this short time his smaller original oil works have gone from selling at £2,000 to be now worth over £100,000 – a massive 4,900 per cent increase on investment. His latest larger work, priced at £1million, represents an incredible career to date.
Lincoln painted Sir Michael Caine and his wife Shakira, after presenting him the painting the legendary actor who is a collector of his work said: "There's no doubt in my opinion that Lincoln is the next Andy Warhol."
Lincoln said: "The idea of expressing feelings is extremely important to my art. After sitting down and looking at the opportunity to create something showing my inner emotion on something as simple as a place mat is genius, I just had to get involved. Mental Health is a major issue and the best way to understand it and cope with this terribly debilitating illness is to communicate on every level and art can give people the medium to do this.
"My wife Denise Welch is an ambassador for Mind and is extremely vocal in her fight with the illness and extends this regularly to so many people, her belief to share and talk about mental illness is so important to her and our family. I wanted to give back and if we can raise some money and awareness for the amazing charity Mind then that's fabulous."
wagamama is combating the stigma of mental health by asking people to open up and talk about what's on their mind.
wagamama has announced its commitment to raising awareness of mental health continuing its successful partnership with Mind.
The restaurant has partnered with the mental health charity to launch their "Open Mouths. Open Minds" campaign.
The partnership with Mind, the leading mental health charity, will help raise funds for their Infoline service, enabling an extra 8,000 phone calls to be answered in 2019, by donating 25p from the sale of every 'super green' and 'power' juice from now until 6 March.
wagamama hosted a special event at its London based Noodle Lab restaurant on Dean St, Soho, to mark Time To Talk Day on February 7.
The "Open Mouths. Open Minds" campaign is aiming to encourage people to open up and share what is on their mind to help break the stigma surrounding mental health.
wagamama has changed their iconic placemats into mindful colouring sheets in recognition of Mind. Colouring is a relaxing and simple way of making time for yourself and concentrating in this way may help to reduce stress levels and negative thoughts. wagamama will also be installing giant colouring walls in major cities around the UK to encourage shoppers and passers-by to lose themselves in a mindful exercise for a moment or two.
Kate Dell, Marketing Manager at wagamama said: "At wagamama we want guests to feel nourished both in body and mind when they leave our restaurants, whether this be from restoring themselves with a steaming bowl of ramen, good conversation on our benches or from picking up a pencil to colour in. We are proud to partner with Mind and support the incredible work that they do. We would like to thank Lincoln for his support and we hope his images makes a lot of money."
Committed to encouraging people to open up, wagamama will be hosting a series of events including a Mental Health panel discussion in their Noodle Lab (wagamama's London based test restaurant) on Time to Talk Day, 7 February 2019. With four Mental Health campaigners including; Bryony Gordon and Dr Rangan Chatterjee sharing first-hand the importance and effect opening up has had on their own mental health. A number of tickets will be available for the event, which will be shared live, and on social media.
Stephen Buckley, Head of Information, at Mind, said: "We are hugely grateful to wagamama for choosing to raise awareness and funds for the Mind Infoline. The money raised over the course of this campaign will help to fund our vital Infoline services, allowing us to answer more than 8,000 additional calls this year. Together with wagamama we can continue to be there for people who need it, when they need it the most."
Last year Lincoln sold a diamond encrusted portrait of the late Princess Diana for a personal record-breaking £1million, beating his previous record of £510,000 set by his painting of Mohammed Ali. The Princess Diana painting, a huge two metre square oil and acrylic spray on linen, had over £100,000 worth of diamonds embedded into the canvas to give a spectacular finish.
Townley sold one of his major 'Hell' works using the cryptocurrency Bitcoin for over half a million pounds will use the Venice exhibition to unveil his Behind The Mask collection, valued at over £5million.
The global launch at La Biennale of 25 number works of art depict man's desires and the need to succeed. The collection shows graphically the layers of our lives controlled by the use of oil paint and charcoal on paper.
The self taught artist initially struggled against an established art market but is now highly sought after and collected around the world including America, Australia, the Middle East and Europe.
The Venice Biennale has been established for over 120 years and is one of the most prestigious cultural institutions in the world. Established in 1895, the Biennale has an attendance of over 500,000 visitors at the Art Exhibition every year. The history of the La Biennale di Venezia dates back from 1895, when the first International Art Exhibition was organised. In the 1930s new festivals were born: Music, Cinema, and Theatre (the Venice Film Festival in 1932 was the first film festival in history). In 1980 the first International Architecture Exhibition took place and in 1999 Dance made its debut at La Biennale.
La Biennale has hosted collections over the years including many British artists such as Henry Moore, Francis Bacon, Lucian Freud, Richard Hamilton, Gilbert & George, Anish Kapoor, Damien Hirst, Tracey Erin, Sarah Lucas and Steve McQueen.
The internationally successful artist has also been chosen for the fourth year to paint the BAFTA honourees. The British Academy of Film and Television Arts honourees included Kenneth Branagh, Matt Damon, Ava DuVernay, Claire Foy, film legend Dick Van Dyke, Jodie Foster, Ricky Gervais, Samuel L. Jackson, Felicity Jones, Ang Lee, and Ewan McGregor. The previous year he painted Orlando Bloom, James Corden, Harrison Ford, Sam Mendes, Amy Schumer and Meryl Streep.
James Nicholls, Managing Director and Curator of the Maddox Gallery, Mayfair, London, said: "In each generation it is a rare occurrence when an artist has the potential to become iconic, and it is our considered opinion that Lincoln Townley is such an extraordinary artist. The British artist was relatively unknown four years ago, now he has become famous for creating the most vivid insight into producing electrifying portraits of Hollywood stars such as; Al Pacino, Dame Judi Dench, Gary Oldman, Sir John Hurt, Robert Downey Jr. Judi Dench, Russell Brand and Charlie Sheen.
"Sir Michael Caine recently described him as the new Andy Warhol, and others see a Francis Bacon-like quality in his work. The value of his work has risen 200% in the last two years alone."
Note to editors:
Lincoln Townley is a world-renowned British artist known for his ability to capture the creative and sometimes turbulent energies that drives the world's most iconic stars to perform at the peak of their powers.
He has been commissioned to paint many of the world's biggest icons including Charlie Sheen, Al Pacino, Sir Michael Caine and his original oil paintings of demons drawn from the unconscious mind, have been exhibited at major international galleries including the National Gallery and the Royal Academy of Arts in London.
In October 2015, he was first commissioned by BAFTA LA to paint the six Honourees at the Britannia Awards. A recovering alcoholic, Townley has donated works to many charities and divides his time between London and Los Angeles. He is also the author o
f The Hunger published by Simon & Schuster. For further details see:
www.lincolntownley.com