Last updated on August 22nd, 2021 at 12:22 PM
Being consistent and getting all the nutrients your body needs through your diet can be difficult when life keeps on getting in the way, yet so important.
A good diet boosts our energy levels; improves sleep; helps regulate hormonal imbalances, strengthens immunity, keeps high cognitive function, balances emotions, to name but a few of its benefits.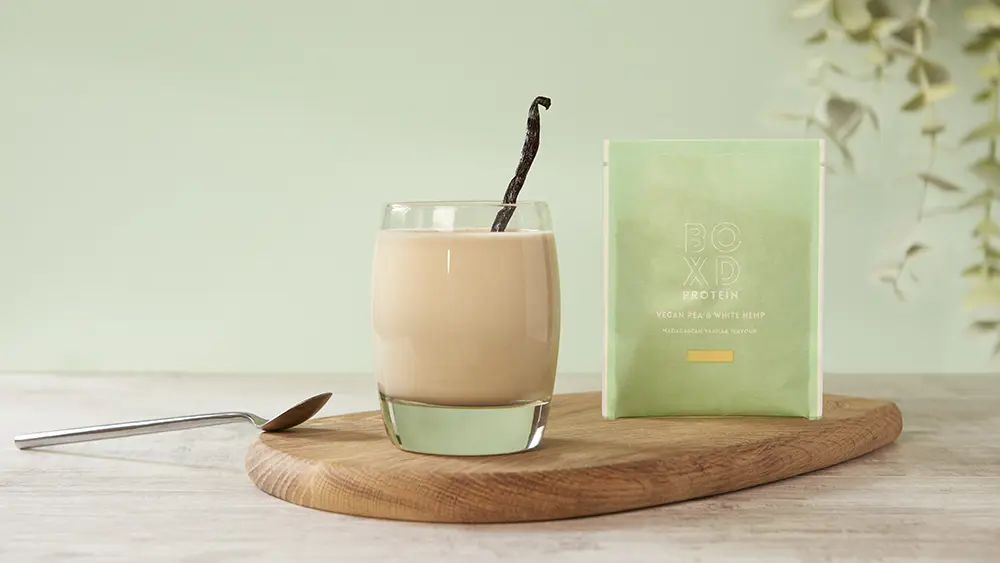 If you're looking for an easy and convenient way to optimise your daily nutrition and ensure you receive many of the key vitamins and minerals found in a healthy diet, then BOXD is just the thing you need.
BOXD protein-based wellness shake sachets come in their exact daily recommended measurements (30g) so you don't have to.
The BOXD house blend was specifically formulated for women by one of the founders (who has a background in Sports Science & Nutrition) after he spent years speaking with women on a daily basis about a number of common nutritional deficiencies.
The powder contains a unique blend of vitamins and minerals including Flaxseed, Iron, Vitamin B, C, D, as well as an electrolyte complex (a special blend of Potassium, Magnesium, Calcium and Zinc). This unique blend offers a great range of benefits to your body and mind such as:
maintains healthy nerve cells
keeps bones strong and healthy
supports immunity
maintains healthy skin, hair and nails
supports red blood cells and energy
aids digestion
keeps energy levels at optimal level
regulates nerve and muscle function
hydrates the body
keeps healthy cholesterol levels
There's a stigma that protein shakes are only necessary for athletes and fitness fanatics who want rapid muscle growth.
Yet protein is an essential macro-nutrient which acts as a building block of all of our body cells, including hair, skin and nails.
Getting enough protein daily is vital for our health and wellbeing and drinking a shake to support this is something that would be highly beneficial to the average woman.
These silky smooth, delicious shakes include a vegan option, are gluten free, locally sourced and contain no added sugars. A shake that you will not want to go back from!
What's more, BOXD helps you be kind to the environment whilst being kind to yourself too. The shakes are all sustainably sourced, and the packaging is all eco-friendly (it is either fully recyclable or biodegradable).
How it works:
Choose your base: Vegan Pea & White Hemp or Premium Whey Isolate
Pick your taste: Madagascan Vanilla; double chocolate brownie (our most popular one!); vanilla/chocolate combo
Choose your quantity: 14, 20 or 40 sachets
Buy once or subscribe; change any time
Enjoy!
Interested to learn more head over to boxdhealth.co/shop-boxd/