The best Christmas presents are … on the finish line! This weekend, Gröden and Val d´Isère were the scenes of yet more exciting Redster shows for Atomic.
Aleksander Aamodt Kilde won both Super G (ahead of Atomic buddy Mauro Caviezel) and Downhill at the World Cup classics in Val Gardena. Finishing 6th in the Alta Badia GS, the reigning overall World Cup champion has regained his pace in every discipline.
At the same time, the Redster speed ladies rounded out the impressive Atomic team performance in Val d'Isère.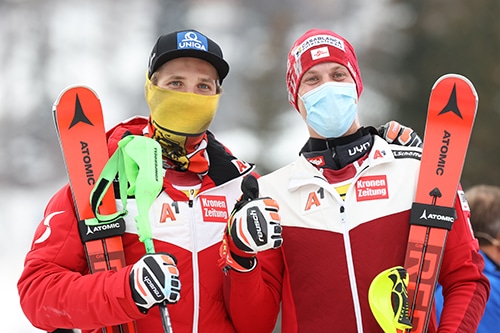 Sofia Goggia dominated the two Downhills, winning one and racing to 2nd place in the other – Breezy Johnson celebrated two third places.
Ester Ledecka almost canceled the Super G due to severe stomach problems, but  decided to start at the last second and triumphed ten days after her victory in the Snowboard World Cup.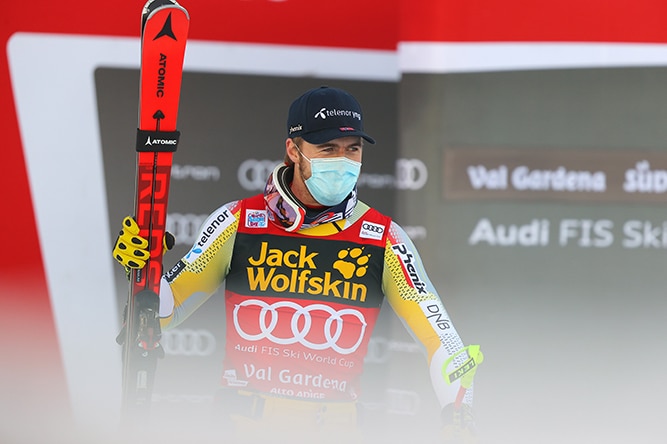 The Redster short formula for the races in Val Gardena and Val d´Isère is easy to remember: 5 x speed = 4 x victory.
In this season's 18 World Cup races a total of six Atomic athletes have already made it onto the top podium.
Overall World Cup winner Aleksander Aamodt Kilde triumphed twice on the first "classics" weekend, taking the win in both Super G and Downhill on "Saslong"; he also finished 6th in the GS of Alta Badia. "Now he has found his race pace again," says Atomic Race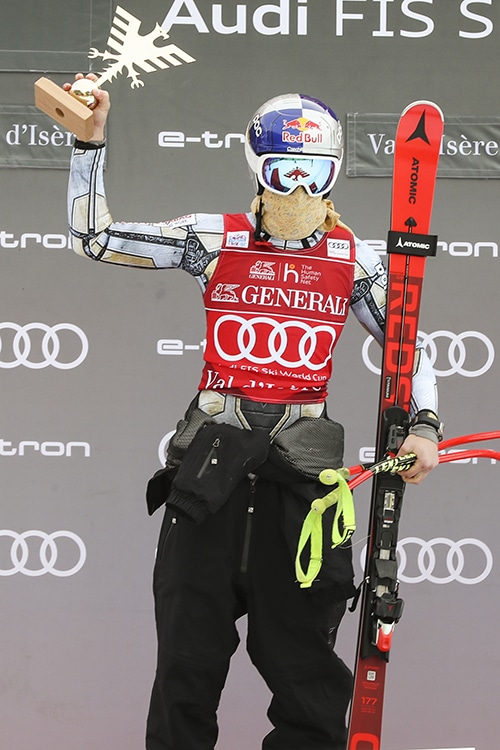 Manager Christian Höflehner, "Aleks has made up for the forced break caused by his corona infection, he skis like a reigning overall World Cup champ again."
The Super G saw the second consecutive Atomic double, and "Mr. Recovery" Mauro Caviezel confirmed his sensational comeback a week ago (victory in Courchevel) with a 2nd place behind King Kilde of Val Gardena. Andreas Sander skied to a strong 5th place.
REDSTER LADY CRACKS: SOFIA GOGGIA, BREEZY JOHNSON, ESTER LEDECKA
Without her big mistake in the first Downhill, Sofia Googia probably would have been the female counterpart to team mate Aleksander Aamodt Kilde, taking home two speed victories from Val d´Isère.
Anyway, victory and 2nd place were also a nice Christmas present, although Sofia "was not entirely satisfied with her two runs," Höflehner reveals from internal post-race discussions. Whereas rising Atomic star Breezy Johnson had all reason to celebrate her two 3rd places.
Double Olympic snowboard and ski champion Ester Ledecka (who had won the snowboard season opener in Cortina d´Ampezzo ten days ago) nearly canceled her Super G start due to severe stomach problems.
After a sleepless night and with an empty stomach she inspected the course mainly to get some fresh air. She then decided to compete at short notice – and won. Skiing sometimes writes the most beautiful stories.
Before Christmas, the men have two more slaloms scheduled: in Alta Badia and in Madonna di Campiglio. The women's tech teams will head to Semmering before the turn of the year.
Stay tuned on: www.facebook.com/atomicskiing
Follow us Instagram: www.instagram.com/atomicski